Brando and Brando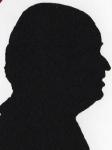 Yes two more useful USB gadgets from the people in Hong Kong that charge a flat rate postage and packing fee of $3 US no matter what the size of your order. First a Micro SD Card reader that is also an MP3 player and second a model plane that is a speaker.
USB MP3 Player + micro SD(HC) Card Reader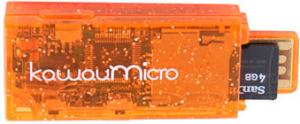 Like a number of things from Brando this does two jobs. It looks just like a memory stick and is 5x2x1cm mine was transparent orange but they do other colours. It inserts in any normal USB socket (ver 1.1 or 2). Just above the bit that plugs in is a slit for you to insert a Micro SD card. The PC will then read it and you can add MP3 or WMA files to it. This action also charges the internal MP3 player.
Remove the unit and plug earbuds (supplied) into the other end. Next fins on the left one button and the other side has two buttons. There was just enough English on the instruction sheet for me to gather this. If you depress the single button for around three seconds you turn the unit on. The buttons on the other side move to the next (or previous) track. The one thing I could not work out was how to start the unit playing. An email to Brando got the answer. Press the left button for three seconds to turn it on then press it again briefly (less than a second) and it will start. If the second press is too long it will turn it off. Maybe if I read Chinese I would not have needed to ask.
I found that all the MP3/WMA tracks needed to be in the root folder as there is no way to change folders. The playing time between charges is around two hours with recharge time being around half an hour. It does not come with any memory so you will need to purchase your own Micro SD or Micro SDHC cards to use in it.
Available from the link below for $16 (US) plus $3 (US) post and packing to anywhere in the world.
http://usb.brando.com.hk:80/usb-mp3-player-micro-sd-hc-card-reader_p00932c031d15.html
USB Aircraft Speaker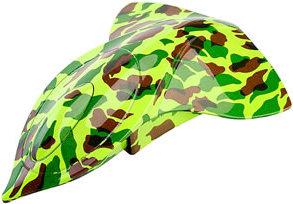 The airplane is swept back wing offering in blue green and black camouflage. It is 15cm long 11cm wide at the wing tips and 3.5cm thick. It sits on a simple wire frame as the speaker is in the base. This raises the height (thickness) to 9cm.
There is one external connection at the rear a special USB cable that is 95cm long and 5cm from the end it splits one going to a standard USB connection to provide the power. The other has a standard 3.5mm jack that you plug into an MP3/iPod. There is no volume control on the plane so volume is controlled from your player.
I tried it with my MP3 player, my iPod and the unit above. All were set at the volume level I would use for normal listening with my earbuds, the volume level out of the plane sitting on the desk around 30cm from me was fine.
When power is going from the USB port to the plane two LED's omit a blue light from either side of the USB lead.
For a small single speaker it gives a good sound to listen to your MP3/iPod when you need other things around you like the door bell or phone that you may not hear if your earbuds are in. Perhaps more of an item to appeal to kids but it is fun item.
One disadvantage is that it needs power all the time to power it.
Available from the link below at $17 (US) + $3 (US) post and packing to anywhere in the world.
http://usb.brando.com.hk/usb-aircraft-speaker_p00928c033d15.html