Optoma GameTime GT3000 projector

Published Nov 20, 2008 Author
petew
Review controls
A high definition projector aimed at gamers, but that is equally at home providing a taste of the cinema in your own home.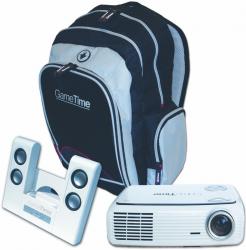 click image to enlarge
Optoma have developed a range of projectors based on DLP® technology developed by Texas Instruments way back in 1987. The technology provides a number of advantages over more traditional LCD projectors including better light intensity and closer pixels. The result is stunning.
The GameTime GT3000 package contains everything you need to play your games or video on the large screen. As well as the projector itself there are a set of compact speakers a range of cables and a remote control.
The projector itself measure 259 x 188 x 71.5mm (WxDxH) and weighs 2Kg. The image is created by a single DLP chip that has a native resolution of 800x600, but the system will accept a wide range of resolutions from a computer and scale appropriately. The best results were achieved setting the computer at the native resolution although it worked fine all the way up to 1600x1024 (the best resolution I could produce here).
The lens will generate an image between 70cm and 7.7m. There is a vary small zoom facility to allow minor adjustment to image size without moving the projector. At around the same distance as the recently reviewed Sony VPL-HW10 the image is slightly smaller, and of course the actual resolution is not full HD - but then this device weighs (and costs!) one fifth of the Sony product.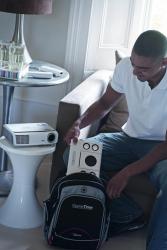 click image to enlarge
The 2.1 speakers didn't look promising at first sight- however the sound quality was remarkably good with little distortion and good bass.
The GT3000 will operate quite happily with non-computer equipment including anything with a standard SCART out socket - via the provided adaptor. Inputs to the projector include VGA, S-Video and composite. There is even a small built in speaker in the projector, although the sound quality on that is fairly poor.
The only printed documentation is a warranty booklet and a quick start guide. The guide shows you how to connect the GT3000 to all the major games consoles. Unfortunately the full documentation is only provided in electronic PDF form on an included CD. For most people this manual won't be required, however giving it a good read is well worthwhile to get the most out of the product.
A comprehensive remote control allows fine-grained configuration of the display to meet your specific requirements although for the most part I found this unnecessary. This is an area though where a good understanding of the product is useful and hence reference to the manual.
Finally, the GT3000 comes with a neatly designed backpack to make it easy to transport, which could make this also an ideal product for small businesses in need of a portable projector for presentations.
The Optoma GameTime GT3000, with projector, speakers and all the cables you should need for gaming or home cinema is available for £349.99 including shipping directly from Amazon on the following link :
http://www.amazon.co.uk/gp/product/B001GZ55TE?ie=UTF8&tag=gadge0a-21&linkCode=as2&camp=1634