A full HD projector from Sony - the VPL-HW10

Published Nov 6, 2008 Author
petew
Review controls
Video projectors are not new although they have only recently started started to appeal as an option for those (with the room) that want the full cinema experience in their own home. With the advent of high-definition, new projectors are required, spurring Sony to announce the VPL-HW10.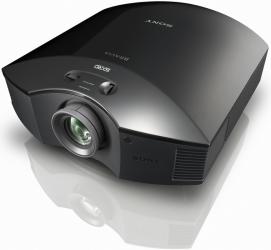 click image to enlarge
Whether you're a fan of the high-definition broadcast systems now on offer or have hailed the end of yet another format war and opted for a Blu-Ray DVD player there's just one problem...
All the components are there - all the technology you need to create your own cinema. But how do you get the effect of a huge screen in your home? Well, the answer is to get a huge screen. There are plenty of options for large format televisions, but these have a few disadvantages for those seaking re-create the whole cinema experience.
Assuming you have the space the alternative is a projector and screen - just like the real thing. If you don't have room for a dedicated screening room in your house then a prjector is much easier to pack away than a huge, heavy television.
The Sony Bravia VPL-HW10 is a full HD projector. That is it has a resolution of 1920x1080 pixels : 1080p. A very bright light behind the internal panel along with a very large lens allows this unit to project a large bright image. For example at 2m from projector to screen you have the equivalent of an 80" screen, at 2.5m you have 100". With a room large enough with a 7.6m distance you have a 300" projected image.
Of course there's never a perfect place to put a projector to get the right image size so the HW10 incorporates a 1.6x optical zoom. This easily allows you to put the projector where you need it to go and still have the felxibility to fill the screen you've bought. Separate controls allow the lens to be physically moved to an extent allowing you to move the image produced. Much simpler than having to find a suitably sized publication to adjust the lens height!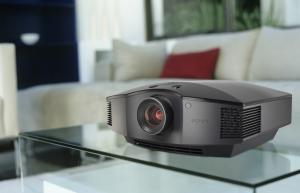 click image to enlarge
This capability does not however come in a small package. The HW10 weighs an impressive 10Kg and measures approximately 410 x 180 x 464mm (WxHxD).The projector can either be free-standing or more sensibly can be mounted from your ceiling - do make sure you mount it securely though! It also uses a not inconsiderable 300W of power when in use and gets vary warm (we didn't need the heating on during our test!). Careful engineering means that although the prjector does require a fan for cooling, this is actually very quiet in operation and certainly was no distraction to us.
The HW10 can accept video input from various sources including HDMI (x2), S-Video, composite video and a computer 'VGA' 15 pin sub-D connector. Note though that no cables other than power are included with the product - so make sure when you buy you also remember to get the right cables for your video equipment.
Regardless of the video input you choose Sony provide their Bravia video processing engine. This provides a myriad of facilities aimed at getting the best out of your available video source, including up-scaling standard resolution video. Watching a standard DVD through a computer and making the image as large as we could (given room size!) produced very good results indeed.
Controls are available on the device itself, although more convenient is the remote control. All operations are managed through an on-screen display.
The Sony Bravia VLP-HW10 is very new and I've not been able to find definite prices, however expect to pay in the region of £1700 for this heavyweight home projector. That may sound a lot, particularly when compared with the price of a large screen TV, but with this you get about as close as you're going to get to a true cinema experience, and will definitely get the most out of your HD video. The price does also include a full three year support service where Sony cover all the costs and, if a repair is required that can't be completed in 10 days, they offer you a loan machine.
Now - the only thing you need to do is find a room in your house large enough for your cinema - maybe by knocking together a couple of bedrooms!