Canon Camcorder Legria FS200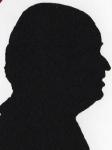 Review controls
It has been a while since I have reviewed a fully fledged camcorder, yes I have reviewed a couple of HD style units that are no bigger than a mobile phone, and yes, most digital cameras can take videos as well as stills, here however a conventional camcorder but getting almost small enough to fit in a pocket without a bulge.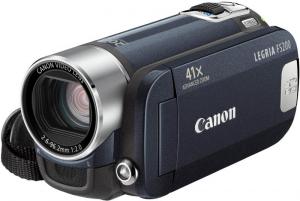 The Canon Legria FS200 just about fits into the palm of your (adult) hand. It is 11.5x5.5x5cm when shut, the last figure the width increases to 13.5cm if you have the screen (that can rotate up to 270degrees) fully open. The weight is 275grams.
Quite unusually this came with a 'kit' that includes a 4GB SD card and a case. In fact to my mind all cameras and camcorders should be sold this way. You do not buy a car and find that the seats are extras!!
My unit was a rather nice full bodied red wine colour with black and chrome touches. It has 41x optical zoom and is stated to have 2000x (no mistake) digital zoom but the only time I think digital zoom is any use is when viewing captured images, I see no great use when viewing captured video.
The rear of the unit has a three position slider view movies or stills, capture movies or capture stills. To the right of this is the button to start/stop capturing movies. The top has three buttons the power on/off sunk low to avoid touching it by mistake and the shutter release on top (ideal for your right finger) and in front of it the wide angle /telephoto slider. The right side has the hand strap meaning that your left hand would only ever be needed to steady the TFT and help lock your body. The base has the solid battery behind a door that also is where you insert any SD or SDHC card, in front of this is a tripod screw, this will be required when zooming as anything beyond around 10x is virtually impossible to keep still unless you have the camcorder on a solid object such as a wall. The front has the lens (2.6-96.2mm) and the rather good microphone to capture voice etc.
With the 6x3.5cm TFT closed that is all, however open it and you reveal a whole array of buttons four under the screen and the function and ubiquitous five position joystick to the left. The side (covered by the TFT when closed) has two further buttons a USB socket and 3.5mm Microphone and A/V out sockets.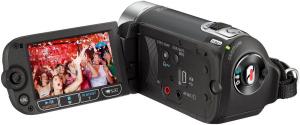 click image to enlarge
A very interesting feature is pre record mode where three seconds before you press the record button is recorded; the unit needs to be in this mode for the pre recording to work. But it is a nice feature if you are waiting for something to happen.
Quick Charge is worth a mention where a twenty minute charge allows a further hour of recording time, with a larger SDHC card that could be useful as shooting time is a lot longer than battery time. I found a six minute clip took 277MB of hard disc space; it should play in Windows Media Player and certainly plays full screen (using leads provided) on any recent TV.
Audio quality is rather good (I tested it on a couple of gigs – with permission) and for those where the audio is perhaps as important there is the headphone/earbud jack you allow you to monitor while recording.
Dual Shot mode sets everything to automatic so you can capture still and movie images without having to change settings on the three position slider.
For those new to editing movies then Canon supply Pixela software that helps you produce your epic on DVD, upload to the WWW or even transfer to your PVR.
After the rather nice mobile phone sized units reviewed recently you need a high quality unit such as this small offering from Canon to remind you the difference between them and a 'real' camcorder.
Doing my Internet searches found the Canon Legria FS200 at a best price of £242.80 including delivery from the first link below.
http://www.amazon.co.uk/gp/product/B001P30D0S?ie=UTF8&tag=gadge0a-21&linkCode=as2&camp=1634
Doing my Internet searches found the Canon Legria FS200 available from Amazon for $279.99 including delivery from the first link below.
http://www.amazon.com/gp/product/B001OI2VXG?ie=UTF8&tag=gadge0a5-20&linkCode=as2&camp=1789
Doing my Internet searches found the Canon Legria FS200 available from Amazon for €278,45 including delivery from the first link below.
http://www.amazon.fr/gp/product/B001P5EUZK?ie=UTF8&tag=gadge04-21&linkCode=as2&camp=1642
http://www.canon.co.uk/For_Home/Product_Finder/Camcorders/flash_memory/LEGRIA_FS200/