SanDisk Micro SD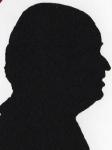 The Micro SD card has shot up in popularity solely because most mobile phones manufacturers (except Sony Ericsson) now use it for storage; it's cheaper for them than internal memory and a lot easier for you to move photos and videos around.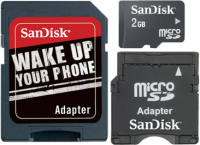 However until very recently transferring to a PC has meant not only removing the micro SD card from the phone but finding the adapter to convert it into a standard SD card and also then the card reader.
Earlier this year at a show I saw a natty device on a keyring of a top US employee of SanDisk and I requested one, his was red/black but by the time it was available in the UK it had become black and grey.
SanDisk Micro SD Kit
This was the predecessor of what I was talking about but still has a use for those who need Mini SD. The kit consists of a standard SD adapter, a mini SD adapter and a micro SD card. The one I have is a 2GB card that still is the maximum that a lot of devices accept. It is stated store up to 500 songs. The formula they use is a song is 4 minutes and the recording is made in MP3 at 128mbps.
The link below provides the 1G kit for £6.99 and the 2G for £8.99
http://www.mymemory.co.uk/Micro-SD/SanDisk/SanDisk-MicroSD-Mobile-Memory-Kit
SanDisk Mobile Ultra High Performance 8GB Micro SDHC
This is a tiny device a tad over 3cm long a maximum of 1.5cm wide and only .5cm wide. It is a USB device and the micro SD card fits inside it a keyring fitment attaches to the end so it can reside on your keyring.
When I say the micro SD card fits in it I mean exactly that no part is left sticking out so the card itself 1.5x1cm is totally safe and something that size will otherwise easily get lost if not in the phone.
A word of warning 2GB is still a glass ceiling and lots of devices will not accept cards greater than this. Another warning is that not all devices will accept SDHC media. This is read a lot quicker and needs modern devices to work in.
So the first unit I received would not work in the phone I tried it as it was 8GB and SDHC so be sure you purchase the right type and size for your phone. It works fine in two new notebooks I have reviewed but only as a storage and transfer medium. This however allows large files to be moved safely and quickly.
The link below has the micro-SDHC 8G card for £18.99
http://www.mymemory.co.uk/Micro-SDHC/SanDisk/SanDisk-8GB-Micro-SD-%28SDHC%29-Card---Class-4-%28Excluding-Adaptor%29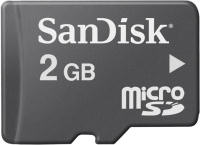 SanDisk Mobile Ultra High Performance 2GB Micro SD
Exactly the same size as the reader above and of the course the card itself has the same physical dimensions but it is a standard micro SD card and has a 2GB capacity. Other sizes are available.
This is safe to use in all mobile phone I have tried that accept micro SD cards and of course you do not need a card reader as the reader it fits into goes into any USB port while you should try to use USB2 ports for speed of transfer I successfully also transferred data (albeit a lot slower) using a USB1.1 PC.
The 2G Micro SD card is available for £7.99
http://www.mymemory.co.uk/Micro-SD/Kingston/Kingston-MicroSD-Cards
Searching for exact configurations is a nightmare but these give you a basic to work from.