Kodak ESP9 Multi Function Unit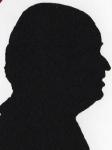 At last a Kodak printer that seems to resist the temptation to jam at the drop of a hat, however this is a far more sturdy machine and is actually a multi function unit (as it has fax) and not an All In One as Kodak call it.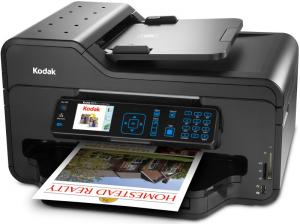 click image to enlarge
The Kodak ESP9 is very black and measures 43x39x25cm, as the paper cassette pokes out behind the main body this covers any extension caused by the cables.
Software installation is very straightforward and you come to a point where you have the choice of Ethernet, Wireless, USB or None. The latter can be useful if you are using a switch or print server and the hardware is not yet available. I connected by USB.
As far as the installation of cartridges and print heads etc this was fine, once you added power it goes through a very noisy routine. This is repeated – albeit a lot shorter at 30 seconds – each time you switch on however it does have a far shorter dead time before each print job of only a few seconds.
All the controls are on a front panel that lifts up by 45degrees making it far more readable if viewing from above. All the buttons have a blue outline that stands out well on the black background even in poor light. There are a total of 23 touch buttons to control all the actions on the MFU. What goes on with the 6x4.5cm TFT display is controlled by the five buttons to its right that are arranged in the ubiquitous joystick arrangement.
Printing the 200 word test document in draft mode produces 17PPM and while the output is a little grey (rather than deep black) it is very clear and quite sharp. Printing the more normal 1500 word document with the same settings comes in at 13PPM this is spread over four pages. Finally an A4 image or 4 13x9cm images printed on an A4 sheet printed in best mode on photo paper print in a very respectable 2minutes 15 seconds, images are quite acceptable.
As a scanner this is an excellent device. If you use Windows scanner you can scan a photo or text page in 10 seconds from start to finish. I cannot say the same for the provided Kodak AIO Home Centre software, this takes at least 30 seconds to load to the front screen and at least another minute to capture and save a black and white text page.
Copying from Windows using the AIO software was something to avoid as it was also torturously slow and often did not give the requested results. Unless you want something special it works well from the unit itself and some reduction/enlargement is available and this does not even require the PC to be turned on or even connected. Interestingly the unit has only a Start button and not as most units have a colour and black&white one. The unit therefore prints colour in colour and black in black and each copy takes 35 seconds.
There is an ADF that works well for separate pages but if you need to copy items from a magazine or book you will need to use the flatbed unless you wish to destroy the original book.
I went though the whole review period without a single page jam even when I let the cassette run low or to even empty or paper something that would have caused havoc with the ESP3, ESP5 and ESP7. There must be a different paper handling method in the ESP9 as this works well even when you give it different types and weights of paper, maybe Kodak have listened to my continual moans.
I am not sure why the software worked so poorly with this unit I even installed it on another PC in case my normal PC had another problem – unlikely as Windows internal software worked well – but I try to be fair.
Doing my Internet searches found the Kodak ESP9 at a best price of £179.89 including delivery (click on the new products!)
http://www.amazon.co.uk/gp/product/B001KLVM7I?ie=UTF8&tag=gadge0a-21&linkCode=as2&camp=1634
The Kodak ESP9 is available for $289 including delivery from Amazon on the following link:
http://www.amazon.com/gp/product/B001O82IGG?ie=UTF8&tag=gadge0a5-20&linkCode=as2&camp=1789
The Kodak ESP9 is available for €322,23 including delivery from Amazon on the following link:
http://www.amazon.fr/gp/product/B001KLVM7I?ie=UTF8&tag=gadge04-21&linkCode=as2&camp=1642
http://www.kodak.com/eknec/PageQuerier.jhtml?pq-locale=en_GB&pq-path=13572