Samsung EXF2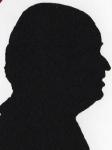 Review controls
This is new camera from Samsung. It's a digital offering verging on what some call a 'Bridge' unit. This is a full HD video unit with still images up to 12.4MP. It can take 4:3, 16:9 and 1:1. It has a flip out viewfinder like a lot of camcorders.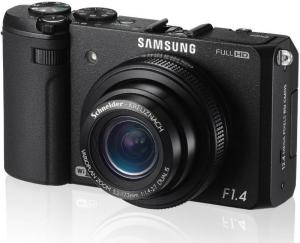 click image to enlarge
The Samsung EX2F 'Smart' camera measures 12x6x4.5cm, the last figure the width can increase by 2.5cm when fully zoomed in. The weight of the unit is 309grams.
Looking the rear of the unit the left side has only a neck strap anchor point, the other anchor is on the right side that also has a flip door behind which are sockets for mini HDMI and USB. The front has the Schneider zoom lens 52-172mm (about 3.3 times zoom).
The top has a flip up flash on the left top edge; this is always a minimum of 5cm from the lens. There is then a shoe for an external flash if wanted. Next is the on/off silvered button. There are then two control wheels the first does several things and also has top level timer controls. The second controls the various different types of capture.
Between these two wheels on the front edge are the shutter release and the telephoto control around it. The base has tripod anchor point and a door behind which the solid battery and any SD you use lives. Finally the rear has a 6.2x4.7cm TFT screen that opens from the right and hinges on the left edge. To the right of this is a column of two buttons on the right edge with the rubberised thumb hold to its left. Below this two rows of two buttons above and below the ubiquitous five position joystick control. All the buttons have well marked illustrations as to their job.
Image sizes etc. 12MP 4000x3000, 10MP 4000x2672, 9MP 4000x2448, 8MP 3264x2248, 8MP 2832x2832, 5MP 2592x1944, 3MP 1984x1488, 2MP 1920x1080 and 1MP 1024x768.
As far as movies go there are four options, 1920x1080, 1280x720, 640x480 and 320x240. Both still and movie size adjustment the latter with or without sound are easily adjusted from the menu button. At 640x480 you can capture 120FPS so good for slow motion playback.
As always I took images at all the available resolutions and while everything over 3MP will give a decent A4 image from the full image I settled mainly at 8MP as this enables the shape at 4:3 to be maintained and I did print as little as ¼ of the image without seeing any reduction in the image quality either from blockiness or blurring.
The display screen – imperial 3inch measurement – is twistable through 270 degrees, so apart from the ability to see over people's heads it can be tilted in strong light to allow you so see what you are capturing without and shielding.
As regular readers will know I am not a huge fan of taking movies with a digital camera but I always take some as part of my tests. Full HD played without problem via HDMI lead on my TV and the sound was more than acceptable.
Some information now for those who go further than 'Smart Auto', I think the f1.8 aperture is probably the largest of any compact camera currently on sale certainly it beats the f1.4 of its predecessor the EX1 by some way. For those who do not know the larger aperture will give faster shutter speeds as well as better depth of field.
Almost all cameras have image stabilization to prevent camera shake, this unit has two separate methods, a neutral density filter enables wide apertures to be used in bright light. So good in both bright and low light capture.
While it comes with a neck strap I found it light enough to use one handed and this means it can quickly be pulled from a bag and you avoid being targeted in busy areas as people tend to be with cameras hanging round their necks.
A camera is not exactly an impulse purchase and if you want to hold it then I see it is available at Dixons and John Lewis giving you a chance to see if it suits you.
The Samsung EXF2 is available from the link below for £379.97 with free delivery.
http://www.amazon.co.uk/gp/product/B008X393KE?ie=UTF8&tag=gadge0a-21&linkCode=as2&camp=1634