Archos 605 WiFi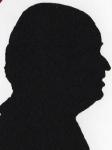 Review controls
There are two 605 models, the 30GB version I saw and a 20GB version that comes with several Harry Potter films pre installed.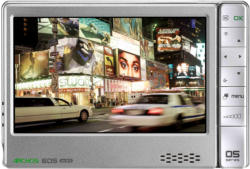 It is 12x8x1.5cm and weights 230 grams, the screen is 9.5x5.7cm. The top of the unit has an on/off button and another to switch the output from the screen to a TV. The left side has three pin hole LED's to confirm activity and an earbud socket. Two proprietary connectors are on the base. This leaves the right side of the front where there is a column of six cream buttons. I assume the area just below this that looks like another button is designed for your thumb to grip the unit.
This is a Wi-Fi unit and as such perhaps excuses the lack of leads to allow connection to a TV or other such device. Earlier models were more expensive but did have everything required although the way it connected was rather clunky. Then I remember one that could record high quality audio once you had a propriety connector, then still later a docking station was required to record video. Now with the use of Wi-Fi most problems are overcome but you still need a driver for some actions and - you've guessed it - Archos charge for it.
So lets tell you about what it has, a far better an easier to use interface, almost everything available within a couple of clicks. This is touchscreen but I found the scroll sliders less than easy to operate with a finger, much easier with a stylus.
Once you have content onto the unit it works well, all your video content is shown as thumbnails, music by a list this can be artists, albums or genre etc.
Getting stuff from a PC is easy enough using the provided propriety USB lead, the hard drive can be set as either an external disk drive or a Windows Media Device. Using the former allows drag and drop and once you disconnect the cable the unit then automatically searches for new content and in theory anyway will convert any undisplayable formats to known ones. This certainly works with the ID3 tags of audio files however not all video formats work often because it does not like the size.
The formats I know that will not work without the codec (driver) are MPEG1 and MPEG2 on the video side, also audio in AAC. What I found did work was MPEG4 video including DivX and XxID. On the audio side MP3, WAV and most WMA.
The display resolution is 800x480 for video and this always looks top notch. If you have certain media streaming software then video can be transferred in this way. However to browse the web you need to spend out again on a version of the Opera web browser (I am told around £20) surely as this is Wi-Fi and it has a module included to invite web browsing then this at least should not be an extra.
If you have Windows Media Player 11 then MPEG1 and MPEG2 can be converted to a form that Archos will read but the quality is naff. The Archos site (second link) is not much better I was assured that from last summer you would be able to buy in £'s but it's still only Euros.
To me the 30GB version I was sent is a better buy than the 20GB Harry Potter version but then if you want the Harry Potter films maybe it will suit, I could not find it listed anywhere yet, but it may be available by the time you read this. My main concern is that the codec and the web browsers are extras, they should certainly be in the box.
Doing my Internet searches I found it at a best price of £173.24 including free delivery from the first link below.
http://www.amazon.co.uk/Archos-605-30GB-Portable-Player/dp/B000S0LAL0
http://www.archos.com/products/gen_5/index_605.html?country=global&lang=en