Fujitsu Siemens Pocket Loox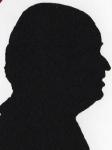 Review controls
This is a tiny sat nav system but not only is it for cars etc but also for pedestrians and bicycles. When I say small it fits into the palm of my hand and I do not have enormous hands.
Buy Now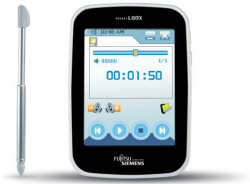 It is 9x6x1.5cm and weights less than 100grams. The screen is 4.5x6cm and is fine apart from when the sun is right on it when mounted in a car.
As regular readers will know I always take sat nav systems for at least a couple of journeys on a train. This is not as daft as it seems as you can study the display to see how it reacts to roads very near the tracks and generally play with the settings, this is of course something you could not do as a car driver.
While I draw the line at riding a bike I did take it for a number of walks. When out walking I doubt you would want the female (no choice) voice telling you to turn left in 100 yards so if you want to be discreet then plug earbuds in. You would certainly need to do this on a bicycle as the volume level ramped up to maximum is just about okay in a quite car but with road noise on a bicycle I doubt it would be sufficient.
There are no less than six pages of options under Basic Settings within the navigation program. The program itself to me loads only slowly - close to one minute - from switch on if you were at the front menu, however if you switched off in navigation mode it only takes a few seconds to start again.
The unit has two pages of options under Route Profile and here you adjust your mode of transport three types of car, lorry, motorbike, bicycle and or course pedestrian.
The unit has maps for Benelux, British Isles, France, Germany, Nordics and Alps, and, also Adriatic. Again from front menu you need to select the map you want each time, not however, if you switch off in navigation mode. Also in this setting are no less than twenty nine types of Points of Interest and I would advise caution with the number you select as they can make the maps look cluttered. They are easy to change so just select the ones you require for an actual journey.
Quite surprisingly - to me anyway - it works indoors providing you turn it on a couple of minutes before you ask it to plan a route. I found it could find around six satellites under normal conditions, the best I saw was eight and the least three even in short tunnels it does not panic and the signal is picked up again on exit.
Doing one of my regular journeys I took it to see how quickly it recalculates when you don't go the way it wants, here it was perfectly acceptable. During this journey I needed to divert from my known route because the police had closed a road due to an accident so it came in useful and quickly took my round the accident though a housing estate and back onto the main road.
One of the setting I like as an option is your speed but to have this displayed you also must have feet above sea level, while this may be important on occasions to me it just took up a bit of screen space. As stated it was normally easy to read even at arms length as the road you are on is enlarged in orange with an arrow showing direction superimposed in yellow. My only doubt is as a walker, bicycle rider or even motorcyclist the best I got battery like wise was around four hours and is that long enough?
It can also be used as an MP3 player/recorder or video and photo player via an external mini SD card. However it's not finished there as it also has a World Clock, Calculator and two retro games Bricks and Smart Pixie. From the front menu you can also set three different audio settings. You can also set Backlight, Idle Time, Screen Display (portrait or landscape), twenty one different languages and finally no less than five different colour schemes. Apart from the rough bar indicator of battery state you can see an exact percentage. Finally you have 2MB of internal storage (around 32MB free) and it also tells you the amount of space on the optional mini SD card.
This is a touch screen device but should you want to it also has a stylus.
www.fujitsu-siemens.co.uk then select handhelds and Pocket Loox.