TomTom Via62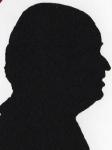 It seems a long time ago when I first looked at one of these devices and they have moved on in what they show and indeed how they show it. For those who do not know it's a screen that shows you the easiest/quickest way to get from A to B and these days so much more. According to some information I was sent they have been around for 25 years.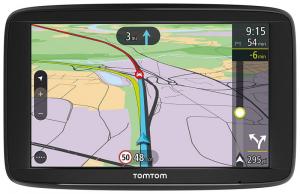 click image to enlarge
The TomTom Via62 GPS satellite navigation unit measures 16x10.5x4cm the last figure the amount it will stick out from your windscreen is a minimum figure it can be far more according to the slope on vehicles windscreen.
There is a forty page booklet printed in six languages with one fact per page, the first twenty six have helpful information which should enable even a first time user to set things up successfully.
The item attaches to your windscreen via a two way sucker mechanism. The supplied 1.5metre USB lead may not be long enough but extension cables are easily purchased to allow neat fitment around the windscreen to your cigar lighter, unlike some units this comes with a straight micro USB to USB cable and then a 6cm long USB to cigar lighter socket, so extending the USB lead is simple. One word of advice make sure the micro USB connection on the rear is fully seated as on my unit you think it's fully in and it's not.
Finally on the back are twin speakers and the on/off button. By default the unit goes into standby and does not turn off this means it boots quicker but does still use some power.
This unit can be setup to work in conjunction with your phone – either iOS or Android – to give traffic information and safety camera information on the device and in reverse it can turn a straight phone into a hands free device which is the way a phone – if used at all when driving – must be used.
For me there are two ways to get to know your Sat Nav either by taking it on a bus or train to see exactly what information is displayed or more normally by you being the passenger in another car which means the drivers attention remains solely on the road, there is a lot to be said for a Sat Nav to be where the driver cannot see it and for him/her to rely solely on voice commands but again until you know the device this is unlikely to happen.
I found entering a destination into the system using the onscreen keyboard fiddly but I do have fairly fat fingers so it was a slow process and by using voice control can be easier, of course in a perfect world everything is done in a quiet car and with no distractions.
By default the screen is split into two with the larger section being on the left and info on the small right section such as the nearest filling station on your route but this is easy to adjust once you know how.
It's a bright easy to follow display which has easy to change colour sets to what suits the individual user.
The version I was sent has full European mapping (48 countries) I settled for using it in England only and there is a UK version available for slightly less.
The Tom Tom Via 62 is available from Amazon for £169.99 with free delivery.