BeeLine Bicycle Sat Nav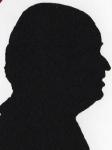 I think only one previous Sat Nav that I had seen has had a specific bicycle mode, this was interesting as it enabled things like bridle ways into the journey equation. A pedestrian Sat Nav would allow progress down one way streets. This offering from Beeline is rather different again.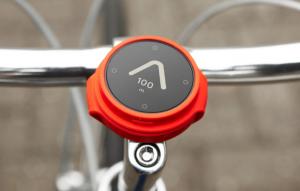 click image to enlarge
The Beeline cycling Sat Nav uses your Mobile Phone to plan the journey and then has a small circular sealed rubber device that you attach to your handlebar to point the correct way meaning your phone can remain safely in your pocket.
It is circular at 5.5cm and 2cm deep, there is a 3cm rubber loop that goes around your handlebar and its total weight is 60grams.
It has a built in clock – once initially linked - which can show the time even when your phone is switched off. The display screen is also circular at 3cm and there are touch points outside this at top, bottom, and both sides.
The box outer has a few simple instructions on it, 'BeeLine simply shows you the distance and direction to your destination, giving you the freedom to pick your own route'.
There are three illustrations the first shows your SmartPhone – either Android or iOS – the second a handlebar with the device attached and lastly what you see on the screen of the device an arrow pointing the direction to your destination.
Download the BeeLine App to your SmartPhone and do an initial setup that ensures that the bicycle has the correct orientation and then enter your destination on your SmartPhone on Android this uses Google Maps and draws a straight line between your current location and the destination.
The unit is stated to have a 30 hour battery life between charges and it squeezes itself out of its outer sleeve to reveal a Micro USB slot – no cable is supplied – plug it in either to a PC or wall socket and it soon recharges.
The only other items in the inner box are a triangular 3x2.5 shiny metal keyring and a small eight side sheet which repeats most of what is on the back of the sleeve.
So if your route involves a one way street there is nothing to stop you dismounting and walking down it and possibly saving a long detour, the same through a pedestrianised town centre. Come out the other end and just follow the arrow on your handlebar.
There is a short video on the front page of www.beeline.co that is the correct address there is no .uk at the end.
While at my 'three score and ten' I am no longer a keen cyclist I did use this both while out walking and the BeeLine device is waterproof which of course your SmartPhone is not and I also used it on buses and this can show how far in the wrong direction a bus can take you especially in town centres. So often it could be quicker to walk using such a device.
For older people like me remember that 1 KM is far less than 1 Mile.
BeeLine is available in Black, Blue or Red. I was sent the black which I see the box calls grey.
It is funded by Kickstarter and should be available by the time you read this at £99 from the link below with free delivery.