MiVue Drive 55 LM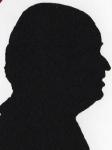 Review controls
The Sat Nav makes sure you get to where you want to go and the camera means that the idiots who make you run into the back of them do not end up costing you your hard earned no claims bonus. Putting the two together should mean your peace of mind.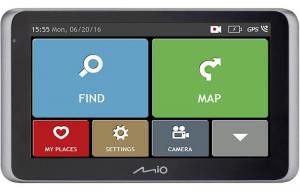 click image to enlarge
The MiVue Drive 55 LM measures 14x8.5x3.5cm where the last figure to the front of the forward facing camera. The viewable screen is 11x6.5cm which gives the notional diagonal imperial measurement of 5 inches.
In the box is the Sat Nav/Camera described above plus the windscreen fitting, a 16GB micro SD Card as well as an adapter to make it fit into a standard SD card reader, there is also a 1.25metre mini USB to cigar lighter lead. Unless you leave this to drop down directly from the windscreen to the cigar socket it is unlikely to be long enough so you will need a mini (yes mini) USB lead extender so you can route it around the top, side and under to get to the cigar lighter socket.
There is a multi-language Quick Start Guide that should get you started a full manual is online or on the supplied DVD.
However unlike some other similar devices that survive on a battery that lasts only minutes away from power this does have an acceptable battery which will allow you to get used to the controls that are not always as intuitive as you might like.
You certainly do not want to be fiddling with the settings while on the road, even while parked. Find what you need like restaurants, petrol stations etc. before you start your journey and plan the route, there is a perfectly acceptable route run through as the driver should not need to look at the unit whilst driving, the female voice instructions should be enough to get you in the correct lane in good time before turns.
There is built in Bluetooth so it can link to your phone for traffic details, however even without that link the satellite finding worked even indoors something that early Sat Navs never did.
While this is not a mobile phone it is probably more dangerous to look at whilst driving so know what it will say in advance. Technically if you do not hold the device it is legal but your eyes should stay on the road at all times when driving.
Sadly the law says if you run into the rear of someone it's always your fault so you need very good evidence to prove your speed and direction to get those people who cause you to crash into them for compensation. This device tracts your speed and direction as well as giving an accurate time stamp and map reference all recorded on the video which can be used in court to defend you.
As a passenger I viewed images captured during both day and night trips and they were all clear. I especially liked the videos taken into a low sun when even with sun glasses on it was hard to see but the camera in the unit still took clear video. It can record 1296p at 30FPS and the 140 degree viewing angle should see anything emerge from the sides long before impact.
These is a nice dual use unit but get to know the Sat Nav controls and settings before you start out and do not try setting a new destination whilst on the move it requires a firm push to enter each letter or digit.
Most such camera units keep the recording till the card is full so maybe spare cards for that long journey try recording for say half an hour to see how the unit stores clips and then work out your likely journey length to see how much storage you need.
The MiVue Drive 55 LM is available from Amazon for £199.99 with free delivery.