Seagate's USB 3.0 Portable Backup Plus

The Seagate Backup Plus is a quick and easy back-up system. Available in 500GB, 750GB and 1TB versions it supplied with Dashboard software which is designed to be simple to use as well as supporting social networks. It supports USB3.0 for high speed data transfer but is also backwards-compatible and so can operate at the lower USB 2.0 speeds. Hence, it provides a useful degree of future proofing for those who only have USB 2.0 at present.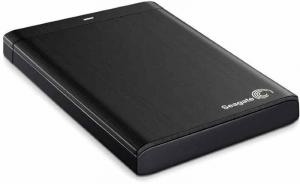 click image to enlarge
These drives which are available in a number of colours are roughly 15 x 80 x 125mm and weigh, complete with the supplied 450mm cable, about 200gm. Hence, being this size and weight and, as they draw their power from the USB port and do not need an external power unit, they are readily portable. Furthermore, despite being USB 3.0 they do not demand more power than can be provided by a single USB 2.0 port,
On examination one realises that a roughly 12mm "slice" at the cable end of the unit is removable to reveal that the drive itself is one of the new USM (universal storage module) devices. This means that the drive, which is stated as being able to work interchangeably between PCs and Macs without reformatting, can be easily upgraded to Thunderbolt or Firewire 800 by means of the appropriate add-on adapter.
It is a straightforward task to install the Dashboard software, which is provided on the Backup Plus drive, onto one's hard drive. Then, when opened, it offers three options: Protect (backup and restore data); Share (upload pictures and videos to a social network); and Save (download from a social network).
While in the Protect mode it defaults to backing up all non-system files on local hard drives; backing up contents of your user folders, documents, music, pictures and videos. There is an option for unchecking the tick boxes to provide a choice of what should be backed up. One can choose whether to restore files to their original location or elsewhere. However, the only way that I could find to restore files to another machine, as one would probably want to do after a catastrophic machine failure, would be to use Windows Explorer.
Overall, the Dashboard software is rather simplistic and, while some may find it satisfactory, it leaves a lot to be desired. For example, in a trap for the unwary, when set to back up "continuously" two consecutive backups, just 90 minutes apart, were each 80GB. This would fill even a 1TB drive in no time at all.
However, the Share option for uploading files appears straightforward. On clicking on Share, one is directed to the login pages for facebook, flickr or YouTube. Similarly, Save brings up the login pages for facebook and flickr.
The 1TB drive will probably give best value for money rather than the smaller capacities and, at its suggested retail price of £94.90 (but possibly less on Amazon) appears to be a sensible price for a nice USB 3.0 drive.