Canon Pixma MG8150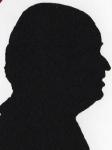 A sleek black All In One unit that works wirelessly or with USB. It is totally black apart from the front edge of the landscape scanner lid that is grey, even the LED screen sits flat on top of the unit when not in use, the only visible control is the on/off button.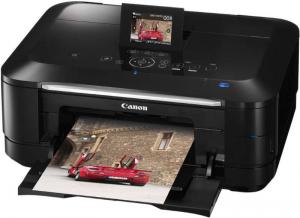 click image to enlarge
It is 45x39x19cm so slightly larger than some, it is a six ink offering with red, blue, yellow, two blacks and a grey cartridge.
Two seconds from pressing the on button you are ready to copy and if you want just a straightforward duplicate this can print quickly, however you can reduce to 50% and increase to 400% as well as change the intensity. I especially liked the display that shows exactly what will copy from a page when you enlarge or reduce so there is no trial and error thinking will I just get the part of the part I want printed at 171% of original it displays on the TFT. This feature can save you a lot of money if you are copying onto expensive photo paper.
Once the unit has power the top of the machine is a blaze of light with no less than seventeen controls all lit up. The Home Screen has three options Copy, Photo and Scan. All other features need the PC and these are done inside Windows with the excellent Canon Solutions Menu or direct from whatever application you are in. Once you have not printed, scanned or copied for a while it goes to a low power mode and the lights go out – apart from two blue ones until you touch any button.
The 7x5cm TFT display can be raised from the top to hinge to near vertical and no matter what section you are in it has a lot of useful information all controlled by the three soft buttons just below the TFT screens display.
I installed it to work wirelessly as more people now use this method; the only possible stumbling block is the entry of your password (done only once) so it can connect to your Network. There are a couple of legacy applications I use that cannot see the scanner from within the application but it works if you open Solutions Menu first, by default this wants to load at bootup. If you know you will not need it for a while you can right click on its tray icon and remove it from memory.
Printing speeds are now somewhat nearer those claimed by manufacturers, using my nonsensical 200 word document printed 'x' times in fast mode produces the speed you should be able to achieve. Canon units still give nice black output where some other manufacturer's offerings are definitely grey when in fast (draft) mode.
The 200 word document in fast mode can through at 16PPM while the 1500 word document (spread over four pages) was only fractionally slower at 14PPM both were crisp and clear and unlike some other units it is not excessively loud.
Printing on photo paper is down from the back tray that can remain closed if you are printing on plain paper as this loads in the small built in tray in the base paper is loaded face down in the bottom tray and delivered face up. With the back tray paper is face forward and delivered the same way. You can force printing from the rear tray if you wish should you have letterheads or unusual sizes to print.
Printing an A4 image – or four near 15x10cm images on a single sheet of photo paper – is very quick at only just over 60 seconds, the images look stunning and the paper emerges dry to the touch. Printing in photo mode is virtually silent.
Scanning can be done from the unit or from the PC a novice using Solutions Menu will like the results and it can scan to PDF, email or for OCR.
A nice unit with only one fault it's colour as the lounge police will not like it, however it can easily sit in a cupboard.
Doing my Internet searches found the Canon Pixma MG8150 at a best price of £206.10 with free delivery from the first link below.
http://www.amazon.co.uk/gp/product/B00400OK2U?ie=UTF8&tag=gadge0a-21&linkCode=as2&camp=1634
http://www.canon.co.uk/For_Home/Product_Finder/Multifunctionals/Inkjet/PIXMA_MG8150