Aiptek Hand Projector (Pocket Cinema V10)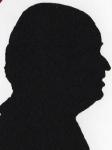 Sometimes having to wait a while to see something is a good thing. If it is still around a year after you requested it then it probably does the job it is meant to, sometimes however the world has moved on. Here I am looking at a very small projector either hand held or mounted on a tripod.
Buy Now!
Aiptek Hand Projector
Available for £249.95
from FireBox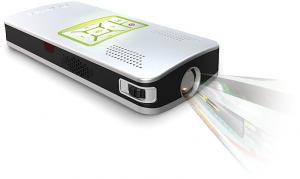 The projector is 12.5x5.5x2cm, silver grey top and bottom and matt black around all four sides. It weights 158 grams.
Do not expect to get a huge image but I happily displayed an image 60cm away on a white wall and this gave a near 40x30cm image from jpg images, The stated resolution is 640x480 which is considerably better than its sibling the T10 that is only £80 less than it, it can also display movies and play MP3 files.
It is supplied with a small tripod and unless you have extremely steady hands this is the way to go. The legs are 10cm long (fixed) and then another 5cm to the end of the screw. The only adjustment is to the splay of the legs. The projector angle can be adjusted by the angle of the ball below the screw and then tightened to hold firm.
It has tiny built in speakers on either side however headphones or earbuds will probably give better sound quality.
All the controls are on the top a total of seven including the ubiquitous five position joystick, all are touch controls. The right front edge has the focus control. The front the lens and the left side A/V in and a bung to cover SD card slot. The rear has micro USB socket. The base has the tripod screw and the door behind which is the solid battery.
The battery should last for several hours between charges, once fully charged the LED on top of the projector will go out.
It has internal memory just under 700MB of which is available and using the supplied USB lead files can be uploaded to unit. You can also attach an SD card to provide extra memory.
To me the A/V input and leads are the most interesting as you can connect most small camcorders such as the 'Flip' and therefore get a bigger image while still out and about, even in places where no power plug is available, just a reasonably dark area with an area of light wall to display the images or video onto. A lot of my tests were conducted on a dull day where dependant on what you were doing you may decide to turn a light on.
Once you have turned the projector on you get a line of five icons, Settings, Video, Photo, Music and Memory. Settings allow you to set language (choice of 13), Brightness (choice of nine levels), Contrast (choice of nine levels), Saturation (choice of nine levels), Slideshow speed (3, 5, 8 or 15second), Auto Power off (off, 3 or 5 minutes), Beep on or off and Default settings.
Video is stated to play .AVI, .ASF, .DAT, .MOV, .MPEG (3 types), .RM and WMV. I tried .AVI without success, but .MOV and .MPEG played fine. Pictures, played all the .JPG I tried without problems. Music, also played correctly (MP3). If you want to play music to your photos they need to be in the same folder to work correctly.
Memory just shows how much is available in the internal and on the optional SD card. I could find no way to transfer anything between the two when on the projector. You could take the SD card to the computer and transfer to/from the projectors internal memory in this way.
This is a small projector that gives a reasonable image however everything it does can probably be done easier with a small Netbook and the image may be clearer in daylight than that given by the Pocket Cinema V10.
It is available from the link below at £249.95.