Wi-Drive or SSD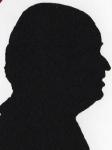 Review controls
First a drive to let you easily stream files to an 'i' device and it has USB so getting them from the PC to wi-fi drive is easy too. Second a new generation of internal SSD drive small in size and above all very fast transfer rate.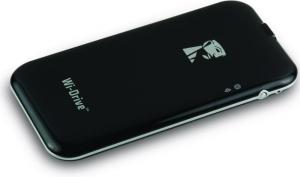 click image to enlarge
Kingston Wi-Drive
Transfer files between a PC and an 'i' device wirelessly. If your PC does not have wireless then transfer the files photos, videos etc by the supplied USB cable. In both cases download the App from the Apple store. However should you own an Android phone do not worry as there is an Android App for you as well.
This 32GB capacity device looks like a small external hard drive which of course it is but it is also a wi-fi device.
It is 12x6x.5cm and weights 84grams. It has a single connection a micro USB in the centre of the top this charges and transfers data to/from non wireless devices. The top of the right side has an on/off button with LED and another pin hole LED just above it. The front of the wi-drive has two tiny pin hole LEDs and that's the indicators.
Connection to any wi-fi device is just a case of you selecting it and then you can stream items immediately to your device.
My one problem is that it is unprotected as you do not have to give a password and therefore it could be possible for device other than yours to stream the data. A simple code as with the excellent Mi-Fi (Huawei E586) reviewed on 23-4-12 would give protection.
It can be used as a 32GB USB drive on a PC and if you have files that need to be transferred to an 'i' or Android device all you need to do is go to the appropriate Market and enter Kingston Wi-Drive and load the app. I am told it can also store data to stream from MAC and Linux devices but I have not tried this.
Often moving larger files such as video is difficult and if you do not have a local connection can even be expensive. With this small drive everything is available, fire up the app and then stream to show on the device.
The Kingston Wi-Drive is available for £64.99 with free delivery.
http://www.amazon.co.uk/gp/product/B005KSXZR2?ie=UTF8&tag=gadge0a-21&linkCode=as2&camp=1634
http://www.kingston.com/en/usb/wireless#wid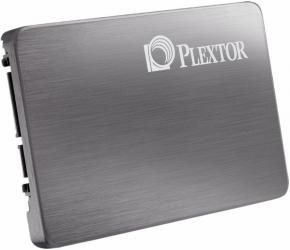 click image to enlarge
Plextor 256M3 SSD
I saw this at a secret presentation last November – I say secret as the address given was some way away from the location – and a number of invitees gave up trying to find it, however it then took from then to now to arrive.
It is 10.2x6.7x1cm, fitting is just a case of finding a spare connector and attaching it. Unlike some internal SSD drives no components are exposed so handling should not be a problem and if required it should fit into a cased unit to be used as an external USB unit. Of course doing this will lose a good deal of its native speed ability.
The drive has 'True Speed Technology' and Plextor are sure enough of its ability to offer a five year warranty. It comes with screws as well as brackets should you need to connect it to a 3.5inch bay.
A lot of SSD drives are very fast when first attached but after the data is overwritten of changed a few times their performance peaks are no longer reached. Plextor claims their unit will still keep this up. The claimed read speeds are over 500MBs and write speeds of 440MBs. I did see some quite impressive tests last November.
As always while I have had the unit for a few weeks it is hard to make judgements. The Plextor PX-256M3 is available from the link below for £257.92 with free delivery.
http://www.amazon.co.uk/gp/product/B006I330BO?ie=UTF8&tag=gadge0a-21&linkCode=as2&camp=1634
http://www.plextor-digital.com/index.php/en/M3P/px-256m3p.html