Archos 7od eReader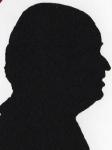 Review controls
This book reader is one of the backlit type and so colour is available. Archos have a background in screens, often smaller than this as it was with early devices just larger than phones, but of course they also do computer type items.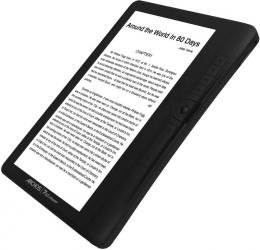 click image to enlarge
The Archos 7od eReader measures 17.5x12.5x1cm, this last figure is at the edges but it bulges so slightly more towards the centre of the back.
It weights 277grams. The viewable screen is 8.5x15cm. The top right corner has a 3.5mm jack, just round the corner at the top of the right side are a micro USB port and a micro SD card port. The bottom right edge has the on/off button.
All the other controls are to the right of the screen in a single column. Four small buttons, the ubiquitous five position joystick then a larger rocker button for page forward and page back. The keys have icons on them but strangely they are impressed in black on black which means they are difficult to see in less than perfect light.
I found the default font was very readable at around 40cm distance, this for me is around my waist and very comfortable it is still readable when on my knee a few centimetres lower. 24 lines of text form the portrait page. You have a scrolling title above the printed page and a footer below that shows battery state page number x or y and the current time and date.
The default font colour is black on a white page and the default brightness at 50% was fine for my use in daylight. There are six possible font colours, white, black, red, green, blue and yellow. The same colours are available as background colours.
There are six font sizes, normal, medium, large (default), x-large, xx-large and enlarge the latter can increase by up to 250%.
You can have music playing through headphones (not provided), the model I was sent has 4GB of internal storage you can add extra storage via Micro SD card. There does not seem to be a way to extend the time before the screen blanks. It defaults to 60 seconds, of course you will be a slow reader not to read a page within that time. In my tests a page took around 40 seconds. So it is only when you are distracted that you need a short press of the on/off button on the bottom corner. It of course remembers where you have got to and redisplays almost instantly at the same page. There is an option called auto flip which you may like with options of 5seconds, 10seconds, 20seconds, 30seconds, 40seconds, 50seconds and 60 seconds. For me I kept it on the default setting of disabled. For me this is a feature to avoid pages are of different lengths with chapter ends and starts and this will mean you will often be waiting for the flip, still if you have no hand movements you can still read unaided so I suppose it has its place.
The ten possible options display correctly on the portrait screen if you use rotate you do not by default see all the options. The options are Add Bppkmark, Bookmarks, Go to Page, Music, Auto Flip, Book Information, Rotate, Display Settings, Add to Favourites and Decode Settings, the last named has numerous options, I found Auto worked normally but for some specialised books the specific settings may have a place and this is not normally available. I assume this option is down to the incorporated copy of Adobe Reader Mobile on the device.
This can also display photos and indeed HD video so it is more accurately a book reader, music player, photo player and video player, you should also be able to listen to audio books. There is a small user guide with the first seven pages in English.
While the battery in constant use will probably last less than a day at the default settings the recharge time is around six hours from full discharge. It is of course the backlight that uses the power. But it is vital if you are reading in poor light as other items such as the Kindle need external light.
Doing my searches found the Archos 7od eReader at £64.99 from the link below.
http://www.archos.com/products/ereaders/archos_70d_ereader/index.html?country=gb&lang=en