PCTV Broadway 2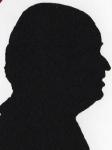 Review controls
PCTV are part of Hauppauge who have been making TV cards to fit into PC's for many years. Of course with notebooks the solution had to be USB, here something that works on PC, Android (2.2 or later) and iPhone and iPad as well as the iPod Touch.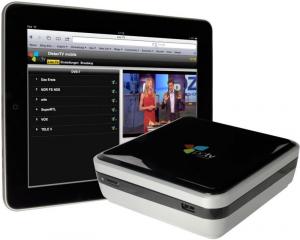 click image to enlarge
Why would you walk round your house watching TV on an 'i' anything, of course you probably would not, but from a Wi-Fi hotspot this could be very acceptable and not only does it work in the UK but anywhere in the world via your own router and the Internet. So the PCTV is far more than just a simple wireless enabled TV box.
It is 12x14.5x4cm, which has two aerials that can add another 11cm to the last figure the height of the PCTV unit.
The front has a USB socket and an on/off button that also has an LED that tells you - blinking white – connecting and – solid white – connected.
The rear has two lines of connections that are slightly inset so the overall depth will not be more than say a cm more than the figure given. Ethernet, and two USB the top line, the second line has aerial input CVBS (video), S-Video, and left and right audio, IR receiver and DC input complete the connections. The unit can also be hung on a wall should you wish.
An A4 double sided sheet is divided into sixteen boxes for the complete instructions of how to connect and use the unit as well as connection of the optional Windows software that also allows recording and playback of TV.
The last mentioned software was the only thing that gave me any problems as the install did not autorun the channel scan.
So what is Broadway 2T, it is a box that takes a TV signal and transfers it by either wireless or Ethernet to a PC, iPod Touch, iPhone, iPad or Android device (2.2 or later). This uses your local network in the home or office.
However if you leave the Broadway box connected to your network you can access the unit via Wi-Fi from anywhere in the world. You will need to find the DNS hostname, this is simple using the '?' on the top right of the screen in the software, other than that its just the same as accessing it in your own home.
As stated using the web interface worked without problem, for some strange reason the setup needs to be done via Ethernet but once setup you can disconnect the cable and use your wireless network to increase the range.
Once I had pulled my hair out for a weekend with the Windows software I resorted to technical support who rang me and walked me though it twice and got the same result we then totally removed the software and rebooted and then it happily installed correctly and did the channel scan, neither of us are sure why this would not work via the tools but after that I had all the options available and was able to record and play back TV.
There are other TV tuners around from this and other companies some that work just from a USB stick and if all you want is to view TV on your PC then they will be a cheaper solution. However the wireless and other Internet remote solution this provides gives you an extra dimension and of course typing a URL into a web link and entering a passcode gives you a screen anywhere that you can get a Wi-Fi signal and I used it on an iPod Touch – small but watchable just – and a 10inch Android Tablet where the experience is far more enjoyable.
The PCTV Broadway 2T is available from the first link below for £169 with free delivery.
http://www.amazon.co.uk/gp/product/B004Q485X0?ie=UTF8&tag=gadge0a-21&linkCode=as2&camp=1634
http://www.pctvsystems.com/Home/tabid/166/language/en-GB/Default.aspx