Sony Networked Audio CMT MX750Ni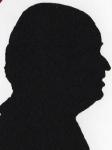 Review controls
On first glance this unit the CMT MX750Ni looks like the recently reviewed CMT MX550 but it has the ability to do and play everything of the latter but it can also stream music from a server either via Ethernet or by Wi-Fi.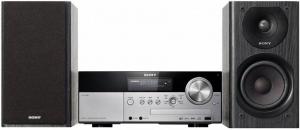 click image to enlarge
The unit is 31x29x11cm with cables inserted in the rear, only the upslant of the wireless aerial makes the last figure increase by 5cm. This extra should also accommodate most iPods and iPhones inserted in the players dock.
There is an 80 page Operating Instruction book and joy of joys it is in a single language, also a large double sided sheet folded into four, Quick Start Guide that should be enough to get most people doing things without problems.
The remote control is perhaps the main outward difference between the MX550 and this as it is a lot more detailed and does not rely on a rocker button to toggle between all the features available on the unit, don't lost it as doing things direct from the main box is a rather laborious task using the ubiquitous five button joystick.
The remote has 53 buttons and is 21x5x2.5cm and runs on two 'AA' batteries. To get the best from it you will probably need to consult the manual as although all the buttons are well labelled some features are not obvious.
It comes with two push on wire aerials that give good reception for both FM and DAB when stretched out.
The speakers are 22x15x7cm and the supplied speaker wire is around 1.5metres to each speaker, the small crocodile grip bare wire at the speaker end but there is a one way push on plug at the unit end, this may seem insignificant but it a single speaker fails to give sound you know its one of the two wires at the speaker end that's at fault. The speakers are cone woofers at 12cm and tweeters at 25mm soft dongle type, they give a good sound.
For details of the DABand FM Radio, CD, iPod and USB see my review of the MX550 published on the 30th September.
Here I shall major on the Network features that should be just as easy to setup. If you have 'WPS' on your wireless router then it should be a single push to allow it to access your home network. However I know this does not always work and strangely enough using remote is the quickest way to enter your passcode as doing it from the small screen which involves a screen showing A-Z then 1-9 then a-z etc is rather time consuming whereas the remote is no harder than a mobile phone as 2 is also A, B and C etc. Even after extended disconnection the passcode is still remembered so this really should be a once only event and with a long passcode that is good news.
Using the 'Music Services' button on the remote allows you to turn it into an Internet Radio.
This unit also supports something called 'Party Streaming' where the content being played by the 'host' is also streamed to other devices so the same sounds can be available in several rooms but do make sure you setup this feature.
Overall I liked both the MX550 and this unit the MX750Ni, they do have the same niggles in that if power is lost you have to reset the clock if other features such as presets and network passwords are stored surely when power is restored then a DAB station could be accessed to update time and date. While it has sleep settings it does not have an alarm function, surely after a good party you need an alarm to wake you up again.
Doing my Internet searches found the Sony CMT-MX750Ni at a best price of £292.55 including delivery from the first link below.
http://www.amazon.co.uk/gp/product/B003QP49IK?ie=UTF8&tag=gadge0a-21&linkCode=as2&camp=1634