Verbatim MediaStation

Published Dec 6, 2008 Author
petew
Review controls
A 500Gbyte hard disk aimed at those wishing to centralise their multi-media storage, or at least to have a usable copy of those files somewhere near their television.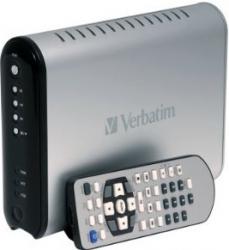 click image to enlarge
Verbatim have been in the storage industry for very many years and that lineage is very clearly visible in the MediaStation. The convergence of multiple functions into a single device tends to happen with each manufacturer from their area of expertise, working outwards to incorporate additional features. So good mobile phones initially integrate a fairly poor camera and media player.
In the case of the MediaStation, this is very much a hard-disk that has some additional features. A fairly attractive enclosure houses a 3.5" hard disk with a 500G capacity, some controls and a bunch of connections at the rear.
Connections
Around the back of the case there are connections for a wired 10/100 Ethernet network, USB, video, audio and power. Video connections provide support for composite, S-Video and component output, the latter supporting high-definition video. Audio outputs include phono stereo output, digital coax and optical. The USB allows you to connect directory to your computer and to use the product in much the same way as a standard USB attached disk.
Functionality
The MediaStation allows you to store and playback your media files. Attach it to your television, switch on and you're presented with a top-level choice of whether to play media on the local hard-disk or from computers attached to your network. Either choice presents you with the same next-level menu - selecting the type of media you want to play: video, audio of photo slide show.
Assuming you have the network connected you'll be able to browse through the various shared locations on your network and locate the media you want to use.
The user interface is fairly basic, with error handling particularly poor. For example if you happen to select a non-public shared drive (which will be listed) you're told it can't be accessed - and they you're taken right back out to the top level menu.
Play back of supported videos across a combination of my wireless and HomePlug network producted mixed results. Despite playing back a fairly low-quality video file after 10 minutes of good quality the video froze and the device needed to be reset before it could again see the shared drive it had been using.
Getting media onto the MediaStation
Despite mixed results across a network, this product has a 500G hard disk. The ideal way to use the product is therefore to copy the files you want to play onto the hard-disk and then play from there. For lower-speed home networks this also means that you'll not annoy others in the house trying to also use the network by hogging bandwidth.
The question has to be - how do you get your files onto the hard disk? Given that most people do not have their computer and their TV in the same room, if they did then you don't need the MediaStation, the obvious answer would be over the network. If you're copying files actual download performance isn't critical so even a slow network should be fine.
There is no support in the products own software for copying files from remote shares, only to replay those file. Ideally you want to simply have the HDD appear on your network as another share that you can mount from explorer. This is readily achieved through standard protocols. Unfortunately Verbatim have opted for the proprietary 'Network Direct Access Storage' (NDAS) protocol. To use this system you need to install yet more drivers on your already loaded Windows operating system. This I duly did.
One of the problems with NDAS is that it doesn't provide any auto-discovery of available devices on the network. Instead you have to enter a 20 digit device code into a wizard along with an additional 5 digit write code assuming you wish to actually copy anything to the product. These codes are printed on the device itself in just about the smallest font you can imagine. I had to get a magnifying glass out in order to read the codes and still managed to get one digit wrong.
Once you have the code entered (and you'll have to go through this on all computers you want to use the MediaStation) you'll then have to enable NDAS in the device menus themselves. Yet another issue is that you have to switch this on every time you switch on the product - it doesn't remember the status.
Depite entering these codes the NDAS softare completely failed to locate the Verbatim product - at which point I gave up. In a world with plenty of standard protocols why on Earth Verbatim chose this convoluted path I cannot imagine.
For testing purposes I removed the product from my TV - carried to my computer at the other end of the house - attached via USB - copied some files and then returned it to the living room. The files thus copied played OK. Note that WMV and AVI formats aren't supported.
Documentation
A basic 2 page getting started document is provided that covers very little other than how to attach the MediaStation to your television. A more complete manual is included on CD although this doesn't cover NDAS and does little more than walk through the menus on the screen with poor English translations.
The CD also includes the NDAS drivers, but as indicated there is no mention of NDAS in the document.
In the box
The package contains the MediaStation, power supply and mains lead, phono cable to attach to your TV, getting started manual and a USB cable. There is no Ethernet cable.
Summary
I'm afraid this is another disappointing network attached media store. A lot more thought needs to go into the use-cases for products such as these before the engineers launch into product development. It's hard to imagine a group for whom this product would appeal. As with previous products I've looked at the hardware itself should be capable of great things - but it is sorely let down by the software. A revamp of the software to add standard network attachment storage protocols is a minimum requirement. That at least would allow a central media store and data backup service in which media could be viewed on both the television and any computers attached to the home network.
At £174.80 for a 500G hard disk this is also a very expensive way of getting your storage (compare with the dual disk FireStorm I reviewed recently at £191 for 2x500G disk and data security through RAID, or even Verbatim's own 640G drive at £81.15).
The Verbatim MediaStation is available from Amazon for £174.80 including shipping on the following link:
http://www.amazon.co.uk/gp/product/B001CEBI40?ie=UTF8&tag=gadge0a-21&linkCode=as2