When was your last backup?

Published 23 Oct 2008 Author
petew
We all know we should backup our important data. We all intend to back up our important data. We'll definitely back up that important data... tomorrow.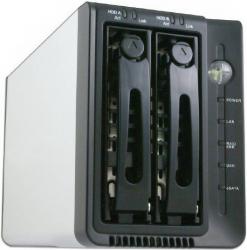 click image to enlarge
The issue of how to back up your data is not new but also has not been solved for the average user. Despite a huge number of software solutions I've yet to find anything that actually works and is practical.
Want a solution that will save your data from the most common problem - hard disk failure? A solution that doesn't actually require you to remember to do anything? I thought so. The Hypertec Firestorm Dual Desktop is one example of a growing number of external storage units that hold more than one hard disk. In this case there are two. These can be configured in a number of ways, that I'll come onto in a moment. The key though is something called "RAID" - or Redundant Array of Inexpensive Disks, and the important word there is 'redundant'. There are vaious different types of RAID - given numbers such as RAID0, RAID1, RAID5 etc.
RAID0 is really a nisnomer and simply allows you to treat two big disks as one huge disk. Be very wary of this because it's just made it more likely you'll loose data! RAID1 is where things get interesting. A RAID1 system with two disks keeps exact copies of your data on both disks. If either disk fails then the RAID system detects and reports the error and starts using the one remaining good disk. By storing your data on a RAID1 system you automatically and transparently have all your data backed up, on the fly, to both disks.
In the event of failure you can remove the bad disk, replace it with a new one and the system will automatically copy the data from the good disk to the fresh new disk. You don't need to run complicated software programmes - it just works.
Hypertec Firestorm Dual Desktop
I've been waiting expectantly to review this product for over a year. Now it's here I'm not disappointed. The review unit came with two high performance 7200RPM, 250Gbyte hard disks. The enclosure itself is a high quality brushed aluminium affair that looks smart and business like measuring 10 x 14 x 24cm. To the front you have access to the two hot-swappable hard driver along with a status panel and power switch. The rear includes an array of connection options.
The product comes in two variants - one allows local connection directly to a computer via either USB or eSATA. The other also includes a 10/100Mbit Ethernet connection for independent network operation (NAS : Network Attached Storage). I have the unit with Ethernet.
Getting started
The Firestorm product comes with all the cables you need : eSATA, USB and Ethernet. Also in the box are two CDs and an A4 folded "Quick Installation Guide". The guide is the only disappointing feature of the product - it doesn't really tell you how to get started. The full manual is stored on one of the CDs, called "NAS Extension Guide" for some reason. The manual does include the information you need to get started, but the important bits are at the end. In my case I had to change the DIP switches on the back to get the GUI manager to be able to configure the drives. The very first thing you should do is open the manual on the hard-disk and skip everything until section 4 : RAID mode selection. Unfortunately the default configuration is not RAID1 - which is a pity.
This device offers a bewildering array of possible configurations. Not only can you configure the two disks in a traditional RAID 0 or 1 system, you can also use one of a number of alternatives including JBOD (Just a Bunch Of Disks) or even a combination. I'm not going to go over all the configurations because most people just don't need to know. The only really sensible way to configure this unit is as RAID-1. If you *really* need maximum space and can't buy bigger disks (which suggests 1Tbyte isn'y enough for you) then go for the JBOD option. Other configurations where a virtual disk spans both drives leave your data more vulnerable than a single drive.
For the rest of this review I'm only going to consider the product configured as a RAID1 drive.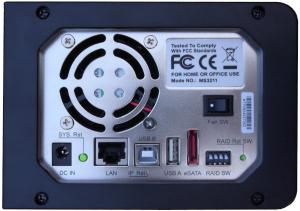 click image to enlarge
Interface option
On the review unit you have a choice of USB, eSATA and Ethernet. In order of maximum theoretical performance you have Ethernet as the slowest with a maximum speed of around 10Mbytes/sec, then USB at around 40Mbytes/sec and the fastest eSATA at up to 400Mbytes/second.
Connecting to our network presented no problems - the device immediately configured itself and using Windows Explorer I could see the drive as a share that I could add to my computer. When connected to a network you also have access to a web admin tool that allows you to configure various parts of the system.
Our own network here is a hodge-podge of wired and wireless devices so I've not compared performance on Ethernet, however the following table summarises how well the product performed on USB and eSATA (and remember this is configured as RAID1).
Single big file1
Lots of medium files2
Lots of small files3
Read
Write
Read
Write
Read
Write
USB
29MB/s
21MB/s
26MB/s
19MB/s
20.4MB/s
14.1MB/s
eSATA
81MB/s
70MB/s
40MB/s
47MB/s
40MB/s
32MB/s
100M Ethernet (LAN)4
3.47MB/s
3.22MB/s
3.7MB/s
3.5MB/s
3.45MB/s
2.85MB/s
1 Transfer single 4G byte video file
2 Transfer directory tree containing 5G bytes of around 1400xMP3 files in around 500 folders
3 Transfer 4Gbytes of image files
4 For NAS transfers were aborted after approximately 1G of data transfer
Traditionally the problem with external hard-drives was performance, with USB being the bottleneck. This often relegated the external drive as a simple backup unit. eSATA removes this as an issue, allowing the external drive to operate at the same performance as an internal drive. Next time you're buying a computer make sure it has an eSATA interface.
Network Attach Storage
Update 11/11/2008 - member giro83 asked for Ethernet/NAS performance figures. The table above has been updated to include these figures. Network performace depends on very many things including speed of the network, number of other devices on the network and the kind of network interconnect devices (switches). To try and minimize these the Firestorm was directly connected to a spare 1G Ethernet port on a high-performance computer. The Firestorm has a maximum network speed of 100Mbps. That network speed is never going to give you more than around 8MB/sec throughput. In our tests above you'll see that we got around 3-3.5MB/sec.
To reduce the effect of software at either end of the system I also tried using 'ftp' (File Transfer Protocol) to move a large file back and forth between the Firestorm. On both a Windows PC and a mid-level Linux device I managed a transfer rate of 4.8MB/sec.
As a more typical home-network test, I connected the Firestorm to a wired port on a wireless access point and transferred a 256Mbyte, with a resulting transfer rate of 1.8MB/sec. This may seem slow (it is!) but across the same network to a Linux file server connected to the same access point I achieved only 1.4MB/sec.
NAS on a home network is generally going to give very poor performance. It's adequate for streaming a few media files and for providing some backup storage - but bear in mind that backing up even 4G of data is going to take around 25 minutes. For NAS to be practical you'll need at least a wired 1G (1000base-T) Ethernet network - don't even think about WiFi.
The Firestorm in use
Performance was great - but what we're really after is resilience. We want our data protected. With lots of data on the Firestorm I pulled one of the drives out. The device immediately reported an error but continued to function flawlessly. The software allows you to configure an email to tell you of disk failure so you know to go and fix it.
Copying more files onto the remaining disk I then hot-inserted the other disk back into the chassis. The system immediately spotted the return of that drive and started to synchronise the data. During synchronisation I tested the performance, and as expected it was operating at about 50% of throughput.
Attached to the computer via eSATA performance is excellent. To get the resilience and peace of mind you need configure windows to move your important directories such as 'documents' to the new external drive (on Vista this is as simple as right-mouse clicking on the folder you want to store elsewhere and click on the 'location' tab).
Once there use the SteelVine manager to configure email notifications so you know if you have a disk problem (don't leave it 'til the second drive fails!).
Other features
These I consider to be fairly incidental to this product but may be of use to a few people. Probably most popular is the ability to connect a USB device to the drive and then have that shared over the network. Particularly useful for printers - but you can also attach other USB hard disks.
Also when on a network there are various server options including iTunes, FTP and BitTorrent.
Summary
I really like this product and with the falling prices of large disks I hope other manufacturers follow suite and produce RAID1 systems for the home. Points of special note :
the decision to include cables for all interfaces
eSATA high performance interface
It just worked
The only thing that particularly let the product down was the documentation. The only printed documentation is an inadequate Quick Installation Guide. The soft-copy of the manual, while including everything you need, was not particularly logically laid out or very clearly written (a better translation would also be appreciated).
Documentation though should not detract from the fact that this is a very good product and will give people a safe and secure backup against the most common forms of data loss.
PRICING : I've tested the 500G unit (2x250G drives) which is available for £167.76 from the Amazon, including shipping. This is of course significantly higher than a single 250G drive (assuming, as you should that you configure RAID1) but set against this you don't need to worry as much about backups, backup software, recovery pain when you find that the backups you thought you were taking - you weren't!
Other options include :