Evesham Alqemi 26inch TV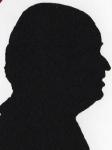 Review controls
This is a widescreen HD ready TV but it does not have Freeview built in (they do another model that does £50 more) so this is ideal for anyone with Sky, Cable or a PVR with Freeview.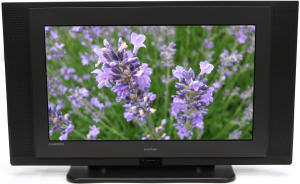 Although the screen size of this Evesham Alqemi TV is 26inches the surrounds make it seem somewhat bigger the external dimensions are 81x46x11cm with a rectangular stand raising it around 2.5cm from whatever you stand it on. Should you prefer wall mounting a kit is supplied. The base is 48x20cm.
The stated screen size is 26inches made up by 57x32cm however a lot of the programs broadcast have a 1.75cm area top and bottom blank making it often 57x28.5 cm. Using the normal diagonal measurement this is little over 24inches, however as some programs are broadcast utilising the full screen size there is nothing wrong with the 26inch claim.
Tuning - for an analogue unit - is slow probably around four minutes but it then places the five channels in the correct order so that you get channel 1 for BBC1 etc.
My normal TV is a 28 inch tubed offering but I decided to try it in the same place that I review most TV's and with the larger surrounds mainly due to the speakers being down both sides it takes up almost as much space as a 32inch screen but is naturally a little lighter to move around and it was certainly an excuse for me to delay moving my own TV back in place.
Picture quality was fine and - I anyway - am pleased to say that the rear of the unit has an on/off switch so it can be turned off - rather than standby - without having to switch off at the plug.
There are seven black on black buttons on the right edge of the unit however everything can be controlled from the 41 key remote control. All the plugs etc plug into the rear under an overhang and I would suggest you note where they all are before you place the unit in a corner as finding them by feel will not be easy. There is an eighteen page 'operating instruction booklet' and a single sheet 'quick start' guide.
The 'peripheral equipment connection diagram' on page sixteen does show the order of connections but it is not to scale so knowing exactly where the SCART and or component connections are can save a lot of scrabbling around.

I had both a cable connection and a PVR with Freeview into the two SCART sockets. Apart from component there is also an HDMI socket as well as analogue connection so you could run a PC on it. Finally there are also video and audio inputs.
By default switching between sources is sequential but any you do not currently have connected can be unticked in setup so in my example it would toggle between SCART 1, SCART 2 and analogue. By default when you turn it on it defaults to SCART 1. So to view analogue you either need to press a channel number or two quick presses on the 'source' button on the remote to return to a channel.
The Teletext has a nice feature worth mentioning, the first push on the Teletext button on the remote give full screen Teletext as you would expect, pressing it again gives the left half of the screen 27x21cm showing the TV you were looking at and the right half also 27x21cm showing the Teletext page both are shown undistorted.
For anyone with Sky, Cable or a PVR with Freeview then this gives you the all you will need. Even though the screen size is a little smaller than I am used to it was no hardship. Yes to me it seems strange bringing out an Analogue TV now but it does have an HDMI socket so there is some future proofing. All in all this rather a nice TV with a very decent image and good colour and contrast.
The Evesham ALQEM126V is available from the link below at £349 and this includes a three year in home swap out warranty, it also includes free delivery.
http://www.evesham.com/products/info.asp?e=BC5E6217-318C-4FA5-AF1F-7292DDC9C18A