Kodak Zx1 Pocket Camcorder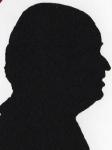 Review controls
This is one of two small HD camcorders (mobile phone size) that I am looking at. So as part of my reviews I take some clips at local gigs and then send links to the clips to the musicians, whom I ask which is better and why.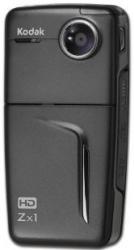 I have previously reviewed a couple of the 'Flip' models who both took images at lesser resolution. This is the first pocket camcorder I have reviewed that takes movies in HD. It is 10.5x5.5x2cm and it weights 135grams.
It is marketed with a You Tube logo on the face and indeed should you want to share videos with the world then this would work however if your efforts are for friends and family there is another way via Vimeo.
The base has a tripod screw, the right side has wrist strap anchor points and a rubberised door behind which you place an SD card for storing your movies. This unit also supports SDHC cards and I used a 4GB San Disc Extreme (30MB/s) which worked flawlessly. The left side has on/off button and below this a large rubberised door behind which are three connectors for HDMI (cable supplied) A/V out and DC input. The back has the lens and a door below it for the two rechargeable 'AA' batteries (charger supplied) and the face has the 4.2x3.2cm TFT display with a total of nine rubberised buttons below that control the unit.
On first switch on it should (I am told) go into the setup menu to allow you to set time and date. Buried on the back of the fold out six language Quick Start Guide is the method to force it into the setup. While on problems my first unit refused to playback on TV (it turns out it had a faulty connection) but since a change of unit any movies can be played back on a TV (or panel) equipped with an HDMI port and providing your camera work is reasonable I doubt you can tell it from standard television except the content may be more interesting.
The software that allows you to send your movies to a PC (via a supplied cable) is stored within the Zx1 and downloaded on first connection the main item is Arcsoft Media Impressions (for Kodak) and while this allows you to do various things to your movies it also allows you to send the output to You Tube (for anyone to view) or something called Vimeo where you can store it for personal viewing or for a limited range of people. Setting up the latter is rather difficult but possible.
The actual upload will not be quick an 8minute clip took the best part of two hours. You just click send and then wait (or have lunch) the first process is to compress the video on the PC and then to send it to Vimeo. A little work is done their remotely before you are sent an email saying it is available to view. Reading the Quick Start Guide it seems that MAC users can use various items of MAC software with the Zx1 but I have not tried this.
If your TV does not have an HDMI port then an A/V cable is supplied (but the quality will be less good).
The unit looks rather like a slightly bulky mobile phone, you use the TFT screen to frame the movie and some small amount of zooming is possible. Providing you are reasonably close the sound quality is quite good but I suspect most will use this for things like holidays etc. It works quite well in low light and I have captured acceptable footage in a normally lit room.
One of my musician friends thought the sound quality was slightly better from the Zx1 than the other unit that I shall be reviewing shortly. Certainly the viewing screen is larger and the provision of the HDMI cable is a plus. However having to purchase an SDHC card for memory is a minus as the other unit works with built in memory and a battery that recharges via USB whenever you connect it to a PC.
The extended user guide is now available on the link below. When I first had my problem with setup it was not. http://wwwuk.kodak.com/global/en/service/products/ekn036272.jhtml?pq-path=15155
Doing my Internet searches found the Kodak Zx1 at a best price of £137.95 from the first link below. Mine was Black I see red and pink are also available.
http://www.amazon.co.uk/gp/product/B001SN72U4?ie=UTF8&seller=A1S8EEAC44D03J&sn=purelygadgets
The link below shows the two other colours, the cameras themselves are identical.
http://www.kodak.com/eknec/PageQuerier.jhtml?pq-locale=en_GB&pq-path=14295