Epson Small A4 Printer WorkForce WF-100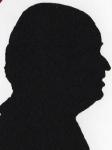 I understand that Epson claim this to be their smallest printer ever. It runs either on a solid internal battery or by mains power. It can receive data via Wi-Fi, eMail or USB. So will this mobile offering be in place in every sales person's car?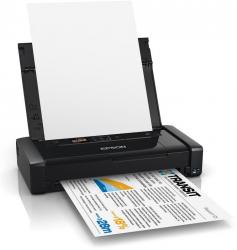 click image to enlarge
When shut it is 31x15x5cm and weights 1.623 kilos. When ready for use the lid tips back to form the paper input tray and the 15cm depth becomes 25cm, the height with A4 paper in situ is increased from 5 to 29cm.
For many reasons you are unlikely to print huge documents as it's not that fast, the ink cartridges are small and only a few sheets can occupy the input tray at a time.
However to print an instant personalised invoice or quotation its ideal and once charged it can work without mains power around.
Connections are few, just micro USB and 24volt DC on the left side and a Kensington Lock port on the right side.
The 18cm lid folds over the top and front and when open any paper inserted has good support. Once open the flat area on top of the unit has the controls in a line on/off button, 3x2.7cm display, the ubiquitous five position joystick and finally an error button.
To insert the two cartridges – black and tri-colour – just lift the lid of the remaining flat area and turn on the unit and the carriage moves to the centre allowing easy access.
Real time speed from sending an A4 monochrome page to it being delivered was 20 seconds the output was clear and crisp and perfectly acceptable.
A tougher test was printing a two page full colour PDF file and this took 90 seconds. It was something everyone can check out the London Underground map, switch to Landscape view and the first page is the map in full colour with all stations perfectly readable and true colour for the underground line. Page two is even more interesting as it's an Index to Stations with not only the zone the station is in a grid reference and also with the extra symbols beside each station like bicycle parking, step free access and stations with car parking etc. This has a total of nine columns and around 250 stations
This could be a contract actually personalised to the client so ideal to show the ability of this mobile unit.
Perhaps more important it feels sturdy, I have reviewed other mobile units before and they sometimes felt flimsy not this unit from Epson.
While you should be able to download the software to install on a PC or notebook without a CD-ROM it is possibly easier to do the initial install indoors and after this you are fully mobile.
Now the only real minus point the price as a small seller it has a higher cost per unit and that is shown in the purchase price.
The Epson WorkForce WF-100 is available for £199.99 from the link below with free delivery.
http://www.amazon.co.uk/gp/product/B00P2GWGE0?ie=UTF8&tag=gadge0a-21&linkCode=as2&camp=1634