Epson Expression XP-960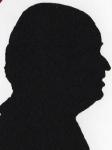 This is a very small A3 All In One unit. For my review time it sat on top of my own A4 All In One and only overlapped by a small degree. So it can of course still print A4 as well as the larger A3, it is a six ink offering and for good measure will print on CD's and DVD's.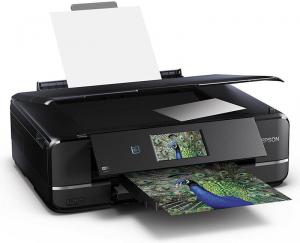 click image to enlarge
It is 46x36x14cm when closed, A4 paper is stored internally near the base, A3 paper will need the sit up poke up from the back tray so more height will be required for that and unless you are adept at poking a sheet of paper into the lift up scanner bed then a little extra for that especially if you are scanning from a book. At the front when you switch on the display lifts to an angle of 45 degrees so this adds 5cm to the middle figure the depth and maybe another 11cm onto that for the paper output tray that automatically extends at print time. But the overall footprint for an A3 printer is still small. It weighs less than 9 kilos.
There is only one button on the unit press it and the 8.5x5.5cm touch display opens on a 31cm flap. Press the power button again and after saying 'yes' it and the paper output tray if it has been deployed will both retract and the unit turns off.
It can be connected via Wi-Fi, Ethernet or USB. Apart from printing you can also scan and copy.
Under the paper input tray is a tray that is for printing of printable CD's and DVD's and near the left bottom edge of the front a USB stick port that enables direct printing of photos etc. without involving the PC.
The unit as sent to me came without a CD-ROM but a quick search of the Epson site found the required drivers.
Of course these days' people print from a whole range of mobile devices as well as PC's. So Epson's Creative Print, Email Print and Wi-Fi Direct all come into play.
Open the bottom paper tray and you in for a surprise as above it is another tray suitable for photo paper up to A4 but also ideal for smaller sizes such as 15x10cm and this special paper can be left in place and just selected at print time.
This is a six ink offering, one of my few moans is that the cartridges are not that large. While you are not likely to use this for everyday monochrome documents in A4 it can do it. Specialised printing in colour is what this is used for and of course printing of A3 images require a lot of ink so make sure you have the image correct before printing.
The Epson inks are called Claria inks which are designed to photographic colour quality. Printing resolution is up to 5760x1440 and the ink droplets can be as small as 1.5pl.
Printing speeds are now close to that claimed – which was not always the case – so you should get around 8PPM or a little more in monochrome for test images. The claim of 28PPM will of course still be in draft mode and surely this is a printer for best quality not draft.
I do not think this is expensive for a six ink A3 printer, looking for drawbacks it is only really the small cartridge size.
The Epson Expression Photo XP-960 is available from Amazon for £189.99 with free delivery. A full set of inks will set you back over £50.
You can find full details on the Epson web site.