Canon's Versatile iP4700 Printer

The Canon Pixma iP4700 is an up-market inkjet printer in the higher price bracket and should not be compared with the budget printers that can be bought for less than £40. It is a stylishly designed versatile machine that delivers realistic colour prints as well as crisp black printed documents. It is easy to use and, as well as offering duplex printing, can print on CDs and DVDs. Consequently, it will come high on many people's wish list.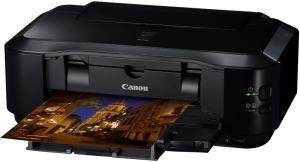 When closed it is just a rectangular black box 44 x 30 x16cm high with the paper cassette protruding from the front by some 9cm. Overall, it is black in colour, with a partly matt and partly brightly polished finish, so that it would not even look out of place in most homes.
Both the paper cassette and the rear paper tray each have a capacity of over 100 sheets. However, the instructions state that, for colour printing, one should only use the rear paper tray, no doubt, because its paper path is better for heavy photo papers. In practice, this means that the cassette is used for ordinary 80 or 90 gsm stock (and even light weight colour printing papers) while photo paper and anything special such as pre-printed letter heads are fed via the rear paper tray. The paper guides on this tray are easily adjusted to accommodate sizes down to 10 x 15cm photo paper or envelopes. Border-less printing is an option for A4, (US) Letter, 20 x25cm, 13x18cm and 10x15cm.
The printer uses a total of 5 cartridges: 3 separate colour cartridges -- cyan, magenta and yellow -- together with black for colour printing. This is far less wasteful than the single combined colour cartridge alternative where the whole cartridge must be replaced even when just one colour is exhausted. A separate, larger capacity, black cartridge is used for document printing.
Although the provided instructions are very sparse the On-screen Manual which is installed as part of the set-up process, covers most issues with the Basic Guide dealing most everyday tasks and the Advanced Guide covering the rest.
These guides are accessed via the on-screen Canon Solution Menu which also lists, among others, printing options and set-up & troubleshooting. The Easy-PhotoPrint EX utility covers single/multiple prints albums and calendars as well as printing onto the writeable side of CDs and DVDs.
The CD/DVD printing utility takes one through the preparation of a label layout on screen and then previewing it. The user is then guided through loading the disc (either a normal 120mm disc or an 80mm mini-disc) into the adapter and inserting it into the printer.
I found the printing speed of a best quality border-less A4 size photo acceptable at just under 4½ minutes. However, while a two-page A4 document took just 28 seconds to print in standard mode, when using duplex to save paper this time increased to 51 seconds. I don't think that, in practice, this will be a major problem to the majority of users.
Overall, I found that this is a competent printer which produces good results, is easy to use and which, at a price of around £86 on Amazon represents good value.