Canon Pixma iP6700D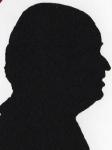 Review controls
After looking at a range of 15x10cm printers it's nice to be back to an A4 offering that is quick, produces excellent output and can also print direct onto CD's, alas it refuses to make the tea.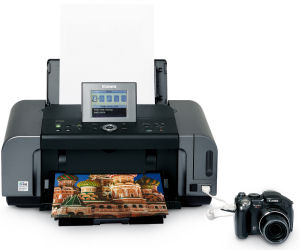 It is 43x30x18cm and weights close to 7.5kilos. This is a six ink offering and I suspect most would use it for printing photos and this it excels in.
However first the details of text pages using my default 200 word document it prints 14PPM in what is termed 'fast' mode. Printing a more normal 1500 word document spread over four pages in the same mode produced 9.5PPM.
There are actually four modes, 'High', 'Standard', 'Fast' and Custom that can be faster - at a loss of quality - than 'Fast'. The 'Fast' mode is a perfectly acceptable black print quite useable for anything but best items, it is clear, sharp and easy to read.
Paper waiting to be printed sits upright at the rear of the unit (face forward) adding another 20cm to the stated 18cm height of the unit. The top of the printer is dominated by a huge 7x5.5cm TFT display, this can be tilted forward by up to around 70degrees for easy viewing.
There are a total of fourteen buttons as well as the ubiquitous five position joystick button. When in use from the PC the only button likely to be used is the on/off one. This unit has card support and this is where the TFT and the various buttons come into their own. Just some of the things achievable direct from the printer are Red Eye Correction, Face Brightener, Vivid Photo, Noise Reduction, Image Optimiser as well as separate Brightness, Contrast and Colour Hue. But it is just as easy to stick a card in, select the image and say print for those times when the image is perfect.
Unlike some of the recent 15x10cm printers the Canon iP6700D has support for all types of cards as well as Pict Bridge and infra red and you can even get an optional Bluetooth unit for direct printing from phones and PDA's. The cards connection as well the Pict Bridge and Infra Red all sit behind a door on the right front edge.
It will work with Windows 98 or later and it states support for MAC 10.28 or later.
As I have said previously I think the software provided by Canon is excellent and their Photo Print software provides the ability to print four 15x10cm borderless images on a single A4 sheet. Yes if you want to be picky they are a tad under the measurement given but are an awful lot bigger than 13x9cm which is all other manufactures - and of course Windows natively - can produce.
Printing four 13x9cm images on plain paper in 'standard' mode took 55seconds. However printing four 15x10cm images in best mode on photo paper took 145 seconds. Printing a single A4 image borderless with the same settings took around 140 seconds. The quality was excellent and while speed does not matter to me when printing images these were fast and good. The Canon printer supports 1pico litre ink droplets that must have a lot to do with the depth and sharpness of the images and as a bonus they are dry when delivered.
This unit can also print images and text onto CD's. There is a tray provided and there are good instructions on where it fits. Be warned however do not standard CD's or DVD's as the ink will never dry. Several companies such as Imation and Verbatim produce CD's with a special coating and the results are excellent. The provided Canon software includes a module that allows selection of CD as a target.
This to me is an excellent printer, looking at Canon's site I find the text print speed is not vastly different from the figures I got, the photo printing quality was superb and it was also fast. The amount that can be done direct from the printer also makes this unit desirable.
Doing my Internet searches found it at a best price of £109.90 including free delivery from the first link below.
http://www.amazon.co.uk/Canon-iP6700D-Superior-Quality-Printer/dp/B000IKVSJO
http://www.canon.co.uk/For_Home/Product_Finder/Printers/Bubble_Jet/PIXMA_iP6700D/index.asp