HP Officejet Pro K5400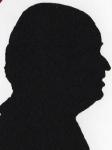 Review controls
For an inkjet printer this is big, but in comparison to some so are it's most expensive part it's ink cartridges, hence the claim '25% cheaper to run than a laser printer'.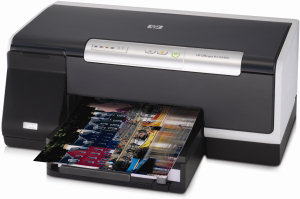 First the all important dimensions for this Officejet printer it is 49x38x21cm and it weights in at 8.8kilos. There are only three buttons on the front edge, the only one you are likely to use is the on/off. There are four tiny LED's to tell you if any of the four cartridges need changing. The rear has the power input (it's a massive power brick) and the USB input.
There is a model that can be a network printer but not this one and also there is a model that has a duplex unit, again, not this one. Luckily it is called an Officejet as it would never pass the 'lounge police' as it is black with cream sides and a grey front panel.
HP installs are never that quick and I tried it three times without success on my normal PC always failing at the point of attaching the printer, it recognised the printer was there but then never finished that part to return to the main install. HP have clever software that realises the install has failed and after some thought it un-installs and this only completes after a reboot.
I then installed it on my notebook without problems (both my PC and notebook have XP Pro SP2) so until I try to install another HP printer I will not know if the problem is with my PC.
Doing the basic test prints came in at a rather good 22ppm for the nonsensical 200 word document and a quite acceptable 16ppm for the 1500 word 'more normal' document spread over four pages.
Moving onto graphics printed on A4 photo paper, a full image (border less) or four near 15x10cm images printed at almost exactly four minutes. Not fast but quite respectable. The latter used HP Photosmart Premier as Windows Printer and Fax Printer will only print four images at 13x9cm.
The cartridge arrangement is quite interesting. It has four good sized cartridges but this unit has two separate print heads, not as you might think one for the three colours and one for black, but cyan and magenta in one and black and yellow in the other. The separate ink tanks mean that if you use one colour far more than the others you only have to change a single tank.
It is stated that this printer is 25% more economic to run than a laser printer. 'Cost per page (CPP) laser supplies comparisons based on published manufacturer specifications of the highest capacity cartridges available for color laser printers under $500 and mono lasers under $250 as reported by Context Information Services as of July, 2006. Officejet K5400 series CPP based on HP 88 Large Cartridges (not included, sold separately) estimated street price and published yield. Results may vary.'
As the above was from a document from the USA not only do we have to have dollar comparisons but they can't of course spell colour.
I was quite surprised when having done my tests and looked up the quote above while getting the link below I saw that it was £84 on the HP site. Being an office product I expected it to be dearer. The cartridges are larger and having four individual ones means more economy but as the heads are in pairs I assume these will need to be factored into the costs, especially for the heavier user.
Being an office product the HP site quotes prices before VAT, the cheapest I could find including VAT is the first link below £84
http://www.amazon.co.uk/gp/product/B000OAKSEO
http://h10010.www1.hp.com/wwpc/uk/en/sm/WF06b/5043-5047-5287-5287-12224248-12973300-78085317.html