HP PhotoSmart D7160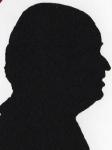 Review controls
I – as regular readers will know – am no style guru, but the cream and grey HP PhotoSmart D7160 looks low slung and stylish to me. In fact say it quietly some ladies may even allow it into the lounge.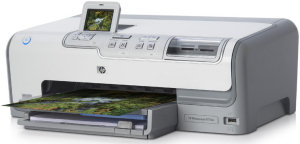 This is a photo printer that comes with some rather nice HP photo software to help you improve your images without hassle. You then have the ability to print, email or even backup the output.
It is 44x40x12cm, apart from the 5x4cm TFT display that could raise the 12cm height by another 5cm should your preferred viewing angle be at 90 degrees, mine is less than half that but it will depend on where the printer is placed.
There are a total of ten buttons and the ubiquitous five position joystick on the front edge of the unit but if your printing is only done from the PC then the only buttons you are likely to need is the on/off located on the far left or the 'OK' the centre of the joystick if you need to clear an error such as paper mismatch.
There is a curved clear plastic door on the right front edge that hides the four card slots and a 'Pict Bridge' slot below that. The only other connections are on the back right edge they are the power and USB slots.
As with all HP inkjet printers the install - and or uninstall - process is not quick. It could take up to 30 minutes and expect around 300+MB of hard disc to be taken up. This is a six ink offering, two red shades, two blue, one yellow and a larger black ink.
Unlike a lot of other printer manufacturers the draft mode 'fast draft' is clear and crisp and black, very readable and quite acceptable. The only time you will get grey here is if you want something printed in grey.
The nonsensical 200 word document that all manufacturers base their timings on comes in at 24PPM but beware the pages are really spat out. I notice the claimed speed is 32PPM but I assure you that 75% of claimed speed is more than you will normally get even with these little contrived documents whoever the manufacturer.
Printing a more normal 1500 word document (spread over four pages) still printed at 17PPM but again the pages are delivered face up very rapidly.

The storage tray in the base is small partly because you can store 15x10cm photo sheets above and keep both in position using menus to decide what to print from where. Given the claimed - or actual speed - of the printer the input tray - stated to hold 'up to 100 sheets' - would be emptied extremely quickly the most I ever got in it without jamming everything up was around seventy sheets of 80gram paper.
Photo printing from Windows 'photo and fax viewer' was fine but why do so when HP Photosmart Premier is included while this does handhold you through choices it also keeps track of your images and videos, allows some good basic editing features, there are also Create, Share and Backup icons as well as the all important Print option.
There are so many choices here and - finally for HP - the ability to print four near 15x10cm images on an A4 sheet. Printing in Best mode this took 275 seconds the output was excellent. Still with A4 printing a single image again borderless takes around 260 seconds.
So this is a smart stylish printer that can print direct from most cards or Pict Bridge using the printers memory and image selection from the card slots are shown on the TFT display, while you do not have the range of features you get using the HP Photosmart Premier software it is certainly more than basic printing.
Doing my Internet searches found the HP PhotoSmart D7160 at a best price of £74 direct from Hewlett Packard :

http://h10010.www1.hp.com/wwpc/uk/en/ho/WF06a/5043-5047-5287-5287-12564514-12564608.html