Pentax Optio WG-2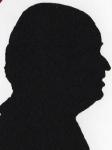 Review controls
These days' people do not want to put their camera away when it rains and here a unit that goes one stage further with special modes for use under water. However it still takes decent images and movies in more normal conditions.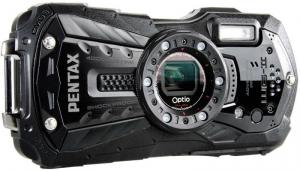 click image to enlarge
The Pentax Optio WG-2 measures 12.5x6x2.5cm, the last figure the width does not vary and the zoom is internal (periscopic) and the bright red face could help you find a dropped unit underwater. However this should not happen if you use the very strong fabric wrist strap which is the best part of 2cm wide, another useful feature for those underwater users.
The right side has the wrist strap, the left side has a rubberised bung and expansion point for the door from the base that has not only the solid battery and whatever SD card you may use, it also has a tripod anchor point at the very right end of the base.
The top has a small rubberised on/off button with green LED in it and well as the shutter release which is easy enough to get to the half down focus point but a little stiff to get that extra movement to take your image.
The front has the lens which has a futuristic look and a finger grip point to its right. The bar flash is above and to its right and despite being only a centimetre away from the corner of the lens I did not suffer any flashback.
This leaves the back which is dominated by the huge TFT 6.5x3.7 meaning 16:9 shots look far more natural. To its right is the wide angle / telephoto adjustment, under this the review button and then the ubiquitous five position joystick with its functions clearly marked, under this a further three buttons in a two and then one arrangement.
This is a 5x optical zoom 16MP offering, each has three compression modes, the capture sizes are 16MP 4:3, 12MP 1:1. 12MP 16:9, 7MP 4:3, 5MP 16:9, 5MP 4:3, 4MP 16:9, 3MP 4:3, 1MP 4:3 and finally VGA also of course 4:3.
In movie mode there are four resolution and FPS options 1920x1080 @ 30FPS, 1280x720 @ 60FPS, 1280x720 @ 30FPS and finally 640x480 @ 30FPS.
Apart from Auto mode (default) there are no less than 27 other shooting modes with a couple just for underwater capture.
A couple of statistics for those using it for more adventurous work it is stated to withstand 1.5metre drop and is waterproof to 12metres, neither of which I tested. Two more things I did not test it can stand -10c and is crushproof up to 100KG.
The 12MP 16:9 mode enabled more things to be captured when up close and still seen in good detail as the TFT is designed for this. A little surprising that the top resolution is reserved for 4:3 where there are large black areas either side of the display.
I took images predominately in the best three star mode as with one and two star you do notice some noise on the images when you zoom in. My main criticism however is the stiff shutter release meaning that if handheld you have to be very careful about unwanted camera movement, other than that I was happy with the images I took.
Flash gave a good image even if it did look a little overexposed on the TFT the image on the PC or when printed was fine.
The Pentax Optio WG2 is available from the link below for £218 with free delivery.
http://www.amazon.co.uk/gp/product/B007510Z9S?ie=UTF8&tag=gadge0a-21&linkCode=as2&camp=1634