A Microsoft Desktop Set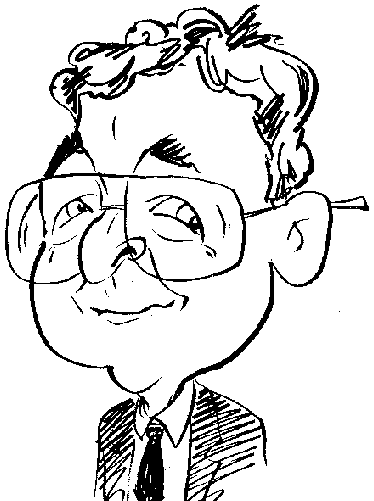 Review controls
Like fish & chips, bread & butter or UK Bank Holidays and their associated rain and traffic jams, the keyboard and mouse go together hand-in-hand.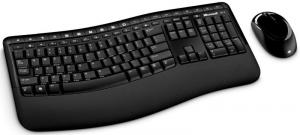 While it is possible to purchase a keyboard and mouse as separate items, there are several desktop sets available that bring together these elements as your interactive tools for communicating with your computer. One such example recently arriving on my workspace for testing is the Microsoft Wireless Comfort Desktop 5000 product which comes with the claim of "Being designed for comfort".
Both the keyboard and mouse are black in colour with a mixture of matt and lacquered surfaces to add visual appeal. The keyboard measures 459.2 x 210.7mm. It adopts the Microsoft Comfort Curve design concept which is meant to encourage a natural wrist position helped by the permanently attached wide soft touch wrist rest. Two detachable feet are provided for those who prefer their keyboard to have a raised angle rather than the default slight slope. I tend to prefer the default slope but I am sure many others will appreciate the choice and opt for the raised position.
With this keyboard, Microsoft has identified those keys which have a secondary action when used in conjunction with the Ctrl key. Unfortunately these identifiers have been placed in such a way that they are not all that easy to see especially when the keyboard is set at a raised angle. The standard row of function keys arranged along the top of the QWERTY keyboard have been reduced in size somewhat. Some users might have difficulty adapting to this smaller size. Running across the top of the keyboard is an addition row of keys that are of a larger size than even the main keys. Included in this row of keys are five which can be used to launch the user's favourite programs plus other keys designated to open My Documents, Favourites, Email client and operate the default media player. Programming the various keys is carried out using the supplied keyboard software that comes with the product.
Bundled with the keyboard is an ambidextrous mouse. Measuring 70.3 x 117mm, this mouse is a little on the large size for my taste but still felt comfortable in the hand even for long work sessions. Supplementing the standard two-button and wheel arrangement are two-side mounted buttons which can be programmed to carry out specific tasks that suit the user's needs. This Wireless Mouse 5000 makes use of Microsoft BlueTrack technology which combines the power of optical features with the precision of laser enabling the mouse to work on a variety of surfaces. I have encountered no problems using this mouse on surfaces that include a table top, articles of clothing, paper, and, quite naturally, a mouse mat. In some circumstances the surfaces were highly reflective. Another advantage of the BlueTrack technology is that it is less sensitive to the presence of dust. I was perfectly happy with the accuracy and smooth control of this mouse.
Both of the two components making up this desktop set require a pair of AA batteries, which are supplied with the kit, for their power needs. This desktop set communicates with the computer via a 2.4GHz wireless technology and a USB Transceiver. This transceiver is not a Nano unit but is of a reasonable small size. When not in use the Transceiver can be slotted into a compartment that forms part of the battery cover. Slotting the Transceiver into this compartment automatically turns off the power so helping preserve battery power. I was able to use both devices from a range of up to 30 feet without encountering any problems.
Overall I felt happier with the keyboard rather than the mouse as I sometimes activated the side buttons unintentionally. Supplied with a three-year warranty, Microsoft has priced Wireless Comfort Desktop 5000 product at £69.99. System requirements call for Windows XP (but not XP 64-bit) and later with 100MB of hard disk space or Mac OS X 10.4 and later with 30MB of hard disk space.
http://www.microsoft.com/hardware/mouseandkeyboard/ProductDetails.aspx?pid=117