Ricoh K-3 II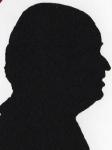 Without doubt this is a semi-professional unit and it takes images of very high quality. What is perhaps a little more surprising is that in my own bumbling way I enjoyed using it and I certainly enjoyed the results that it gave me.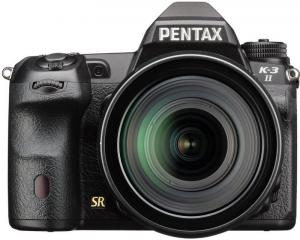 click image to enlarge
The Pentax K-3 II DSLR measures 13x9.5x14cm and weights a tad over 1kilo. It was supplied with an 18-55mm lens and this fully extended added around 1.5cm to the width.
This was one of the few DSLR units that I fitted with the neck strap as carrying a kilo in your hand for a long period can be somewhat tiring however when shooting at a gig where it sits on a table between shots I still prefer not to have the strap getting in the way.
The 118 page operating manual is a delight just for the amateur to see what can be available. I always start any review in 'Auto' mode and as such this does not have one but putting it in the 'Green' setting gets rid of any stupid settings you may have selected while checking out the controls and so gives the camera a chance to take reasonable shots.
Knowing I had a evening event coming up where lighting would be low had me looking for the flash – often this is hidden on the side but my eyes could not find it, certainly I gave it some dark corners to find if it magically took over the images were rather good but no inbuilt flash. There is an external shoe on top of the unit and any semi-professional cameraperson would have separate flash units in abundance.
So delve into the manual to prove it was not my total ineptitude at finding the flash to find on this occasion there is no inbuilt unit.
By default this unit will take both RAW and JPG images but a delve into the very extensive menus can change this.
As stated this unit tips the scales at a little over a kilo so both the thumb hold and hand wrap on the right side are very substantial and very comfortable as they need to be.
I am well aware that unlike normal camera reviews when I mention all the controls I have mentioned none other than 'Green' and lack of 'Flash' but I feel if this the sort of camera for you then you will want to see and try before you buy if only for the feel. You will probably also have a range of lenses so this will alter all the units' dynamics.
So onto that evening event, while the stage is well lighted the areas beside are often too dark to capture decent images without flash here it was not a problem and not having flash just made you think about images and results were good.
Of course the person this is aimed at will have flash even if just for fill effects but in my short test without any really dark images to capture I was happy with results. I took some night images along the Thames but that is never really dark and a firm anchor point or tripod will give good results.
Looking at something like the Pentax K-3 II makes any amateur want to improve and to truly merit using a unit of this quality.
The Pentax K-3 II is available from the link below for £807.54.
http://www.amazon.co.uk/gp/product/B00YX2QYPG?ie=UTF8&tag=gadge0a-21&linkCode=as2&camp=1634