Battery Charging and Storage Capability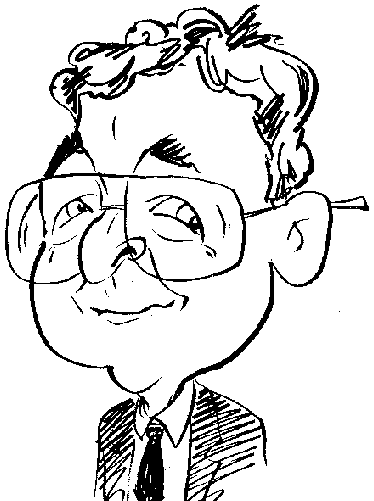 Providing the dual functionality of battery charging and storage capacity is a small device for use with Apple devices.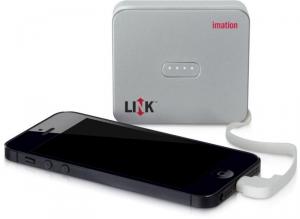 click image to enlarge
The Imation LINK Power Drive combines battery charging functionality with flash storage capability. Designed specifically for use with various iOS mobile devices, the product is available in 16, 32 and 64GB capacity models. My review is based on the 16GB version of the product which is currently available from selected Currys / PC World stores plus Amazon.co.uk and Tesco Direct. According to figures released by Imation, the 16GB model could be capable of holding 5,700+ photos or 4,100+ song tracks or 11+ videos.
This small box shaped unit has dimensions of 73 x 61 x 21mm (W x D x H) and weighs 110g. Predominately Apple white in colour, apart from a silver top plate, the LINK Power Drive is compact and light enough to slip in a pocket without weighing you down or causing an unsightly bulge. Decorating the silver top face of this unit are logos for Imation and LINK plus four pinhole style LEDs.
These LEDs serve the dual purpose of flashing to indicate when activity is taking place between the LINK Power Drive and the iOS mobile device as well as the state of the internal 3000 mAh battery during the recharging process. Depending upon whether 1, 2, 3 or 4 LEDs are glowing, the battery power level will be up to 25%, 50%, 75% or in a fully charged state.
Although not immediately obvious at first glance, the base of the LINK Power Drive will slide forwards a little way to product a stand into which your iOS mobile device can sit while being charged or using the available storage space. On the first time use, it required a certain amount of force to get the base panel to move. Subsequent movement of this base panel was far easier.
Rather than run the risk of supplying separate leads for charging and linking to an iOS mobile device which could be accidentally misplaced, the LINK Power Drive features permanently attached leads for these purposes. When not actually needed these leads slot into channels running around the sides of the LINK Power Drive's body for safe keeping.
The shorter of the two leads, measuring just 30mm, features a standard USB connection. This lead is used for charging the internal battery and transferring content between the LINK Power Drive and a computer. Measuring 125mm, the second lead has a Lightning connector for attaching to an iOS mobile device for transferring data and power charging between the two devices.
In order to gain access to the LINK Power Drive's full functionality when used with an iOS mobile device, you need to download and install the appropriate Imation app from the App Store. This app, compatible with iOS 7.0 and devices with a Lightning connector, acts as a file manager covering the content on the mobile device and the LINK Power Drive. The LINK Power Drive arrives with empty folders set up for use with Contacts, Documents, Music, Photos and Videos.
As mentioned earlier, in use the LINK Power Drive has dual functionality in that it can provide local storage and battery charging facilities for supported devices such as the iPhone 5, 5c and 5s plus the iPod touch (5th gen). Using the two integrated leads, it is physically possible to have the LINK Power Drive simultaneously attached to a computer and an iOS mobile device. However, in such circumstances, the ability of the LINK Power Drive to feed power to the iOS mobile device will be turned off automatically as the computer will have priority in order to charge the LINK Power Drive.
It is also not recommended to use this double linking method, with the LINK Power Drive acting as a conduit, to transfer data direct from the computer to the iOS mobile device as some data transfer functionality could well be deactivated. Instead the recommended approach is to opt for a two stage operation. In stage one you copy data from the computer (it could even be a Windows system) to the LINK Power Drive. After disconnecting from the computer and linking to the iOS mobile device, stage two will involve transferring the copied data to its new destination. Data can be transferred in either direction with both stages.
The LINK Power Drive can certainly prove a useful tool for increasing the storage capacity of supported iOS mobiles devices and has the added advantage of providing battery charging functionality. Pricing for the three different models has been set at £59.99 for 16GB, £79.99 for 32GB and £99.99 for 64GB. I'm sure than Android users would appreciate a similar device for their platform.
https://www.imation.com/en/consumer/link-mobile-storage-products/link-power-drive/