A Home Audio Kit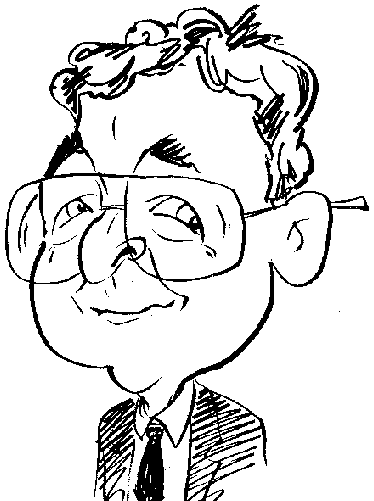 Review controls
Have you noticed that the vast majority of products designed as accessories to enhance the capabilities of an iPod are larger than the Apple's ubiquitous digital player?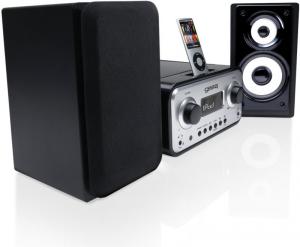 click image to enlarge
I recently came across a perfect example of this trend with the arrival of the CDM-100 from Gear4. I reckon that it would be possible to fit more than 25 boxed iPod Classics into the large box containing the CDM-100. This product provides iPod, CD, Radio and Clock capabilities.
The CDM-100 kit consists of a central control unit feeding two external speakers, a remote control powered by two AAA batteries, three iPod docking adapters and a power lead with a 2-pin plug and 3-pin adapter for UK users. The central unit, mixing together lacquered and matt black with a matt silver front plate, adopts a box shape with rounded corners and dimensions of 200 x 205 x 100mm. Decked out in black, the two speaker units' dimensions are 203 x 169 x 115mm. Each speaker has its own permanently attached 116cm lead for linking to the central unit.
Mounted on top of the control unit are the iPod docking station and a pressure-released cover for the CD player. Decorating the front of the unit are two large knobs for volume and tuning purposes separated by a monochrome 64 x 25mm LCD display. Running across the bottom of the front panel are buttons for selecting Function, Band, Memory/Clock, Stop and Play/Pause tasks. Jack sockets are provided for earphone and Aux connections.
Moving to the back of the unit reveals clip attachments for connecting the two speaker leads plus FM/AM antennas. While the FM antenna is permanently attached, the user will need to connect the supplied AM antenna.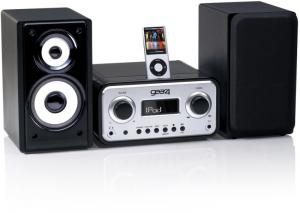 click image to enlarge
Removing the various items from the box immediately brought a couple of worrying aspects to my attention. Both the central unit and the 3-pin adapter rattled when moved. I was able to locate the problem with the 3-pin adapter by opening it up. The noise was caused by a small metal clip that had come loose and this was quickly fixed. However I was not totally happy with the use of the 3-pin adapter as there were a couple of occasions when the two-pin plug popped out for no apparent reason. As yet I have been unable to track down the cause of the central unit rattle. Fortunately this does not appear to have any noticeable affect on performance but does raise some concerns over quality issues.
Switching between the various function modes of iPod, CD, Radio and AUX is straightforward and can be carried out either via the front controls or the remote control device. When using a supported iPod model (standard iPod, touch, classic, nano or mini). You can play, skip and scan tracks plus access the functions on your iPod menu. As is standard with such devices, the iPod unit's internal battery will be recharged. CD usage allows you to play, stop, move forwards/backwards and opt for Repeat or Random play. With a choice of FM/AM bands, you can have 30 programmable presets using either Mono or Stereo reception. The Aux mode can be used for other attached audio devices such as an MP3 player however you do not have access to the remote control features or the battery recharging feature.
When not in use providing the various music/entertainment modes, the LCD display can show the time in 12/24 hour format. There are options to set alarms, timer and sleep functions with a user-defined audio source. If the selected source is not present then the device will default to Radio mode. A choice of Flat, Classic, Rock, Pop or Jazz EQ settings are available along with an option to turn on/off DBBS (Dynamic Bass Boost System).
Audio-wise the CDM-100 is capable of delivering a nice sweet, rounded sound with a range of volume settings. As mentioned earlier, I did discover a couple of worrying rattles while the two-pin/three-pin mains lead set-up was not 100% secure. Gear4 has priced this product at £89.99 which is reasonable for the functionality offered by this kit.