External storage without compromising performance

Published 7 Apr 2008 Author
petew
In the past extending your computers storage meant choosing internal disks and getting performance, or external and getting ease of use and flexibility.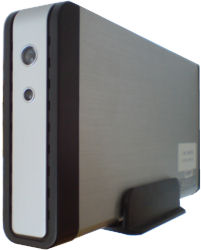 This is the first chance I've had to take a look at a new external hard disk sporting the high performance 'eSATA' - or 'external SATA' interface as an alternative to the otherwise ubiquitous USB connection. This drive is from the Hypertec FireStorm range and comes with capacities from 80G byte to 1T byte. Here I'm reviewing the 80G byte model.
There are a couple of common reasons one may want more storage on a computer. The first is that the massive 120G byte drive your computer came with only two years ago is now looking positively cramped. The other is that you've built up a huge library of images and music on your computer and you're now paranoid about the hard-disk failing - you need a backup!
Although these two scenarios look at first glance similar, they have subtley different requirements. Making a back-up of your existing content can happen over night or in the background and if it takes a while then it's not the end of the world.
High performance and external
Extending your main disk storage is another matter. A USB interface may be convenient, but it's a bottleneck that limits the performance of the drive to substantially less than that of your internal drives. The maximum theoretical transfer rate for USB 2.0 is around 60M bytes/second. The practical maximum is closer to 40M bytes/second after allowing for inefficiencies in the protocol - and that assumes nothing else is sharing the USB bus. The sustained data transfer rates of modern hard drives is around 60M bytes/second. If you want to get close to that figure then you need a better interface than USB.
SATA is the technology used to connect most hard drives to the mother board in modern computers. It's electrically very simple and is very fast - the current standard has a capacity to transfer at almost 400M bytes/second. Being a dedicated disk interface SATA contains an array of technologies that can get the very best out of a hard disk.
eSATA provides you with an external connection to that system. Using eSATA you can get many of the benfits of USB connectivity with internal performance.
Although SATA has been around for a while, not all computers will provide an external eSATA connector. The FireStorm comes with an internal SATA to eSATA adaptor. This requires a spare slot in your desktop case and will require you to open up the box.
As well as the converter the product is shipped with USB cable, eSATA cable, external power supply and a CD containing some utilities.
eSATA has been designed to support hot-swap of devices. Unfortunately Windows Vista is still in catch up mode. Whereas Windows can finaly (just about) cope with hot-swap USB drives - it fails miserablly with hot-swap eSATA.
If you want hot-swap and portability then it's probably safer to stick with USB. Use eSATA where you want the performance of an internal drive without having to open the case.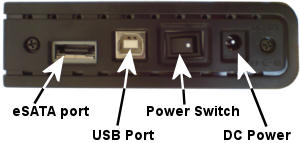 Performance
With a theoretical capacity of 375M bytes per second we were interested to see how the same drive would fair with each interface. The following table summarises our results :
Single big file1
Lots of small files2
Read
Write
Read
Write
USB
24MB/s
33MB/s
21MB/s
27MB/s
eSATA
63MB/s
47MB/s
49MB/s
43MB/s
1 Transfer single 4G byte video file
2 Transfer directory tree containing 16G bytes in 4505 file, 505 folders.
Despite a potential capacity of almost 60M bytes/second the maximum rate USB could deliver was 33M bytes/second for reading data from a single very large file. Around half the capacity the 7200RPM disk could deliver.
In the case of eSATA - apart from the significantly higher performance in all cases, the write test showed the interface operating at close to the maximum sustained data rate for a standard hard drive. You can't get much better than that.
Software
The Firestorm drives ship with some basic backup and encryption software, although most of what they are capable of is possible with standard Windows Vista software. The backup solution provided is the free version 'SyncBack' which is adequate for simple archiving, but doesn't do a whole lot more than Windows native backup application.
Summary
If you want a fast external hard disk but don't want the cost and complexity of SCSI then eSATA is the solution. For a single drive the system barely breaks into a sweat at only around 16% capacity. Where eSATA will really come into it's own is with multiple drive arrays, which will have the added benefit of reliably storing your important data. Expect to see a lot more of eSATA in the coming months!
The Firestorm range from Hypertec are available in sizes from 80G bytes to 1T byte (1000G bytes). I've not been able to find the eSata variants available through usual searches. Prices quoted by Hypertec are : 80Gbyte - £62; 160Gbyte - £68; 250Gbyte - £81; 500Gbyte - £120. For the 80Gbyte drive this is about a 25% premium over the USB only variant listed on Amazon and a 12% premium for the 500G drive. This is no doubt due to the newness of the eSATA interface - given there isn't any real incremental costs in providing an eSATA interface expect this premium to fall rapidly as more products become available.

Details on these drives can be found on the Hypertec site, although you can't buy direct. There is a list of channel partners - of which I checked a number but no mention at this point of the eSATA interface. The relevant page on the Hypertec site is as follows :
http://www.hypertec.co.uk/hypertec_merlin/drillgen.asp?level=Product&flag=EXTHDD&key=1560798