KidzStar Tablet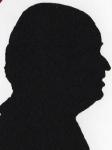 Review controls
While this is aimed at '4+' it could at a pinch be used by the child's parents as in 'parental' mode you have access to the Internet and therefore could use it for browsing as a standard Android device. It comes with versions of lots of games for various ages.
Buy Now!
Binatone KidzStar Tablet
Available from Argos
only £99.99!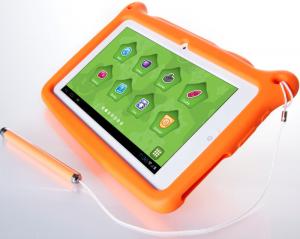 click image to enlarge
Out of its bright orange case, as I suspect any adult user would choose, the KidzStar Tablet from Binatone measures 19.5x11.5x1cm.
It is not designed as an adult tablet but should your own PC or Tablet be unavailable then this can contact the outside world. This is primary a tablet for the young, exactly how young will depend on your common sense, there are games to appeal to pre school children but for various legal reasons the box states '4+' as the age group.
The viewable screen is 15.5x8.7cm giving the notional imperial diagonal measurement of 7inches. It is a creamy shade of white. The case however (bright orange) will be useful when young children use it as it protects from the odd drop or throw as they get impatient with themselves for failing at a certain task or three.
Everything can still be done in the case and it also holds a useful stylus that has a rubberised end so even a hefty push with it on the screen is unlikely to do any damage. The string attaching it to the casing is 25cm long.
There is a camera front middle of the top of the screen surround when in landscape mode and this can take images to input into certain games, if the child sees itself it makes the task/journey more believable for the child.
The right side has on/off, volume up/down rocker, mini USB, micro SD slot and headphone/earbud socket. The inbuilt speaker is on the back and corresponds to a hole in the case, a lot of parents will be pleased that the volume is not that high.
I think this unit is better than the Leap Pad that I reviewed in October but even this has shortcomings in that a lot of the games on the unit are trials or limited level offerings so parents will be pestered to upgrade to more levels which of course have to be purchased.
Binatone also do a Book Reader on which this is based and indeed a number of books are included and you can use some credit provided with the unit to purchase more. It is nice to see that they also show in User Guide some web addresses where children's books can be downloaded for free. Internet access requires a wireless connection and of course that must be setup by an adult. The child is told Mummy or Daddy must do this and they need to enter a password before the procedures can be completed, little eyes often remember more than you think so do keep this secure as you definitely do not want a young child trawling the Internet for obvious reasons.
The Quick Start Guide is four A4 sides and this should certainly be enough for the parent to set it up for the child to use. The initial setup suggests you enter age and a few other details but this is so games for that age are to the fore.
I tend to allow – with parental supervision – a number of children to try these products and I found that by around seven they were probably more interested in a notebook rather than this sort of unit, however they still played some of the older games. There is even the original pong game which I was told was developed originally by Binatone where you have to return a ball against the computer, very retro however the rest of the games are far more modern and some can be quite challenging. The book reader module is very good and will encourage reading.
The special price below is quite enough and at the stated normal price it is nearly the same as some larger offerings designed for adult use. The Kidz-Star Tablet is available from Argos for £99.99 either in store or online.
http://www.argos.co.uk/static/Product/partNumber/9088085.htm