Canon Pixma iP90v (with battery)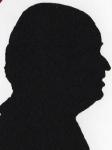 Review controls
Here the word portable means no mains and not just with a 15x10cm offering. So for anyone needing to produce documents while away from mains power this is it. It is a product that Canon have successfully produced in various forms for years.
Buy Now
Canon iP90V Printer
from £159.75 at Amazon


Only £176.30 inc. battery
from DABs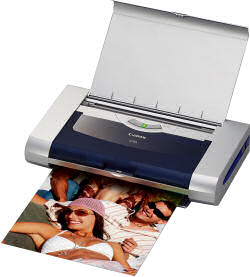 This latest incarnation of the Canon iP90v is a little larger simply because the battery fits in an attachment at the rear. The overall dimensions with the battery extension attached at the rear are 31x20x5cm and the weight is such it could easily fit into a bag to be carried around. However in it's 'mobile' life I would expect it would live in a car as a mobile office for people who need to produce quotes and invoices on the move.
For such a specialized product I feel almost guilty giving print speeds. Using the 'fast print' option you get amazingly clear and sharp images not at all what some manufacturers give you as 'draft' and printing the nonsensical 200 word document it does very close to eight times a minute. Printing a more normal 1500 word document spread over four pages came out at 6.5PPM.
Yes I did give it some graphics to print - still feeling guilty - and an A4 full page image on photo paper and printed in best mode came in at 2 mins 25 secs. But this is certainly not the printer to print large graphics if only because the print cartridges are tiny and the printing costs would therefore be very high. Also it can print borderless but the quality of the full page print was rather good and certainly better than a lot of so called 'photo printers' I have used.
This printer is the latest in the 'portable' range that Canon alone among the major manufacturers produce. There is little point in having a laptop that runs for 'x' hours without mains power if you need to print and do not have a printer that can do so. Not only can this print from a PC but also a range of handheld devices and because of this it not only has USB connection but also the much maligned infra red. Bluetooth - via an optional adapter - and Pict Bridge is also catered for.
Open the lid that hinges back and up to allow you to insert around a dozen sheets of paper with comfort - I certainly could not insert the claimed number - and - this increases the depth of the unit by around 12cm - the lid forms the input tray. The output is from the front base of the unit.
There are only two controls on/off and paper feed. The paper path is face up straight through so no jams are likely.
Returning to the tiny print cartridges 5% coverage - whatever that looks like - should be possible for 80 pages with the colour cartridge and 100 pages from the slightly larger black one.
The print menus are almost identical to those of standard Canon printers so should you need it things like watermarks they are possible. So indeed are simple booklets and so you should be able to do almost anything you can do with your office printer while you are on the road.
I suppose if you live in an area subject to a lot of power cuts a battery printer could also be of use.
Printing quality is good, speed is acceptable and of course the printer itself would easily fit into a drawer for ladies who do not like their lounge cluttered up. The minus point is the tiny cartridges. Of course being a niche product it will never be cheap as it will not be a large seller.
Doing my Internet searches found the Canon iP90v with battery at a best price of £159.75 from the first link below.
http://www.amazon.co.uk/gp/product/B000PD56T2
http://www.canon.co.uk/For_Home/Product_Finder/Printers/Bubble_Jet/PIXMA_iP90v/index.asp