HP Officejet 4355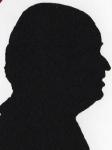 Review controls
Certainly a multi function unit, in fact I would say this was a fax that can scan, copy and print. It looks like a fax and even has a phone handset attached.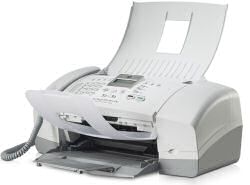 So while HP still seem to call it an All In One I would say it is a fax that can copy and as a bonus scan and print.
Paper in the HP Officejet 4355 is stored in the base the documentations 'up to 100 sheets' but as printed output is delivered on top of the waiting stack with no divider I think this is optimistic. A fold out wing catches pages that are scanned or copied and the front opens backwards to provide a shoot to input pages to scan. There is no flat bed so you can only scan cut pages and not anything from books or magazines.
It is 43x20x18cm when closed, open the wing and the front and this increases to 43x45x33cm and looks a little ungamely. There are 34 buttons on the face around a two line LCD display. Today it seems strange to have a handset on the side but if this were the only phone in a SOHO environment then it would work. The unit itself can set up to be phone, fax, phone/fax or answerphone, truly something to cover all eventualities.
The initial software setup took me around 20 minutes on a reasonably fast machine and dependant on the install you will be down between 450-750MB of hard disc space.
I tend to prefer a flat bed scanner and as such a lot of what I would have scanned had to go to another device. What I did using the page feed worked well and you could say the same for anything copied, insert the page as shown and then press either the black or colour button, that's it. I tended to find that the first page after switch on took a while but after that the time and quality was acceptable.
Printing the nonsensical 200 word document in draft mode produced 16PPM and the output was fine, it was black which may sound a strange statement but lots of other manufacturers draft modes are varying shades of grey. However printing in draft mode is somewhat noisy and the pages are snatched from the tray. The more telling draft mode test is a 1500 word four page document and this printed at 12PPM. Both these figures are less than those quoted but I tend to find no inkjet ever delivers the stated output.
This unit can only print borderless at 15x10cm and while you are unlikely to buy this unit for photo printing I need to give timings as it has colour as well as black cartridges. This is a four ink two cartridge offering and a full A4 page prints in an unremarkable 6minutes 10seconds, the output was acceptable if a little dark on all my test pages.
Looking at this as an 'all in one' I was a little disappointed, however if fax is your main requirement especially if you rely on a single phone line for everything then it could well fill your requirements. For an occasional copy in both black and colour and to scan cut pages. Printing black of colour documents is adequate and maybe the very occasional 15x10cm photo. However there is no A4 borderless option and I did find the output a little on the dark side comparing the same images as printed on a range of other printers and All In Ones.
Doing my internet searches found this in only a few places - it's still very new - and the best price I found was for £90.46 from the first link below.
http://www.dabs.com/productview.aspx?Quicklinx=43XL
http://h10010.www1.hp.com/wwpc/uk/en/sm/WF06b/5043-5527-5563-5563-358435-12207166-45273917.html