The Bug Revisited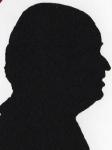 Review controls
Pure Digitals 'Bug' designed by Wayne Hemminway is a very futuristic early DAB radio with extras. Some have its Re-view feature but almost none have what is for me its best the ability to save timed recordings to SD card.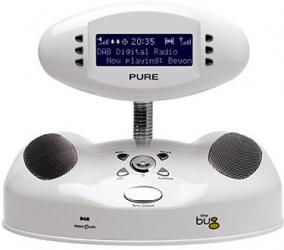 I have used it for years to record certain radio programs that I am unable to listen to at the time they are broadcast.
I started using a 16MB SD card and this worked fine but on saving it always displayed a spurious error message.
Some years later I tried using a 256MB card and this needed a lot of hard work to get it to record but eventually I managed to get reliable saving and all was well but it did still give the same spurious error message.
Recently (end of last year) I tried a 2GB card – according to their site it accepts up to 2GB – and while by duplicating the entire contents of the 256MB card it did allow some working saves in most casers the error message was no longer spurious, it switched on at the desired time showed it was recording and at the end of the recording shut down with the error message.
I looked again at the Pure website and found three entries for The Bug none seemed to be exactly my problem but one solution looked possible. Upgrade the Firmware from my version 1 to the current version 2.2
Upgrading Firmware is always problematic and should things go wrong at the vital time you could end up with a doorstop. My first attempt seemed to download but it did not implement leaving me with a message on The Bugs screen and no choices. Remove the power and then restart it had not upgraded but still worked. So try again and this time it took and not only can I now use the SD card and get reliable recordings there are no error messages.
It does not stop there as there are new features. You can now rewind and fast forward through recordings. There are new options for recording and even the ability to output to Digital rather than the SD card should you wish.
The display when on standby is different displaying not only the time in large numerals but also both alarm times if you have set two and also the time of the next set timed recording which as far as I can tell are unlimited.
The central control button (a forerunner of the ubiquitous fire joystick button) is now far more responsive making going from live radio to recordings a lot easier and for those that want such things there is now EPG (Electronic Program Guide) available.
The sound quality from the speakers was always good, re-view only allows a few minutes of rewinding of live radio but long enough to answer the phone or the door and not lose the plot of a play. But the MP2 recording has always been for me the real joy of this unit. In case you think MP2 was a typo it was not but if you remove the SD card Windows will replay them as if they were MP3 I believe the reason was something to do with standards, you may need Windows to convert the MP2 files before they can be played on an MP3 player.
So rather than me telling you about brand new products or even products I have purchased some months later here something totally different a product that is still around despite being several generations of DAB radio older and working perfectly with extra recent bells and whistles thrown in to the Firmware upgrade. So if your old Bug is not functioning correctly any more it might be worth the Firmware upgrade risk to give it a new life.
How many technology products are you still using that are seven years old, link to the original review below.
http://www.gadgetspeak.com/gadget/article.rhtm/751/4069/article.html