What is 'The Bug'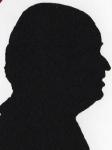 The name may make you think this is something to be avoided, on the contrary it is certainly something to be experienced. The only clue I will give here is that it's manufactured by Imagination Technologies.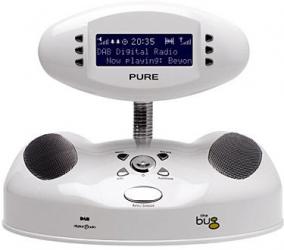 So hands up all who guessed this is a DAB radio, well it's that and a great deal more. First the dimensions the base of the unit is semi circular 74cm in circumference. It stands 9cm high and is 27cm across. Then the flexible extension arm that's the (head) 9x3cm display. When in use this displays three lines of info with up to seven different icons and the current time on the top line while the second line displays the station you are listening to. The bottom line can display station info, the multiplex, the date, exact station MHz, the kbps stream, or the signal quality (anything above 90% is likely to be quite acceptable). These are on a sequential toggle using the bottom right button on The Bugs head.
The automatic scan found around 50 stations, these by default are displayed initially in alphabetical order, after a few days your choices will appear first according to how long you have listened to each station. There are other options like choosing by multiplex.
The base of The Bug has five more buttons and a five position wheel, all are well described in the 36 page manual. As a DAB radio it is excellent, however now I will describe some of the extra goodies not likely to be found on other DAB radios.
First the ability to record to SD card (slot on back of unit) the recordings can be pre set so if you know a program is coming on when you will not be around this works well, the files tend to take around a MB of space per minute so a 16MB SD card can just about store a 15minute program at 128kbps. Some voice channels send at 80kbps or I even found one at 64kbps and these would of course store a lot more minutes on the same size SD card.
There are two other ways of recording, press the record button and record live, however you may decide you like a song once it has already started and by using the ReVu button it is possible to record up to five minutes of what has already been broadcast. Yes part way through a song you can return it to the start – providing it is less than five minutes in the past – and then record it. This can have other uses when listening to something, you could answer the phone or door and not miss anything.
These files can be replayed on The Bug or transferred to a PC either by USB cable or perhaps more easily by just removing the SD card and putting it into a card reader on the PC. The files are MP2 and something like Windows Media Player will read them perfectly well.
The Bug runs only on mains power and a fairly substantial brick goes into the mains socket. If you lose power or need to move to another location nothing is lost as your favourites, timed programs and alarm settings (two available and these can be for different radio stations or an alarm) are all still there when power is restored. You may have to wait for up to a minute for the clock to synchronise again, when switched off the clock uses the full three lines of The Bugs head and amount other choices are a range of different brightness levels very useful for night use if you have it by your bed, I found the least intense setting still quite bright enough.
Should you find the two oval 3x1.5inch speakers not good enough – I was quite happy with them – there are both 3.5mm analogue out and headphone sockets on the back.
There are lots more little things available, I suggest a full read of the manual to find out all the goodies. This is not simply a DAB radio and if it appeals, dig deep as this is a designer product from Wayne Hemmingway and as we all know designers are not cheap. so do not expect much change from £150. Available from John Lewis, Currys Dixons and Comet amongst others. Go to www.thebug.com enter your postcode to find your nearest stockist, this can also tell you the likely DAB reception in your area.
Link : www.thebug.com