Logitech Squeezebox Radio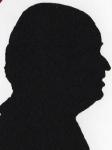 Review controls
Amongst other things the Logitech Squeezebox Radio is a rather good Internet Radio with the quickest connection (almost no buffering delays) whether you connect using Ethernet or Wireless. Plug In, turn on, select Internet Radio, choose you station and listen.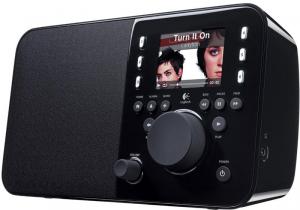 click image to enlarge
It is quite small at 21x10x13cm. Mine was black, unfortunately that shiny black that shows every finger mark.
The right side has a headphone socket. The rear in an indent the power lead input, Auxiliary input and Ethernet port but even with items plugged in nothing protrudes over the stated 10cm total depth of the Squeezebox.
The left side, base and the top are clear leaving only the front of the unit to describe. The left half is the speaker, the right half has a total of 17 buttons of various styles all clearly marked as to their job. There is also a 5x3.7cm TFT screen.
What this screen displays varies greatly according to which station you are listening to. As regular readers will know jazz is my passion and as I type this I am listening to JAZZRadio.Com. The top line of the display shows the title, the second line the artist. Below this a banner ad in full colour showing the radio station and below this the current time and several other small icons including the fact that I am listening to this via a wireless connection.
There is a small Quick Start Guide that has the first 15 pages in English and this should be enough to get even a novice up and running.
You will of course need an Internet connection and while it works almost straightaway using an Ethernet connection, should you want at some stage to use it Wirelessly you might as well do this setup now, as every letter, number or symbol in your wireless security code needs to be entered via the largest knob on the front of the unit just below the TFT and then you need to press the knob to select it and the letters etc are shown sequentially it could be a while to enter a complex string but it only needs to be entered once as even a prolonged disconnection from the mains does not lose the code once it is entered and the reconnection is automatic.
There is a mode called My Music and to use this you need to download squeezebox software to your PC but then it can pick up music that is stored on your computer. The unit can recognise not only MP3 but also FLAC, WMV, AIFF, WAV, AAC Apple Lossless and others. While most Internet streams are MP3 or WMA this unit will also play Ogg Vorbis and AAC.
It has other modes not found with most other units including My Apps and App Gallery. One item on the App Gallery is a utility that allows you to add what you are listening to or have just heard to your wish list at Amazon.com.
Should you leave the unit plugged in then it even has an alarm clock so you can wake to your favourite sounds. As there is an alarm clock you would expect a sleep timer as well and it does indeed have one of these with possible settings ranging from 15 to 90 minutes.
The screen can also be used as an image viewer and providing you select all Landscape images this can look good. When you switch the unit off – but leave power connected – the screen displays the time in 1cm numerals and the day date and month on the bottom line of the display.
For those who cannot live without Facebook this unit – for its sins – can connect to it.
While all Internet radios are improving this is possibly the best I have seen so far. The connection time is good, having a choice or Ethernet or Wireless is great and the near zero buffering time is great positive.
The Logitech Squeezebox Radio is available for £110.99 from the first link below.
http://www.amazon.co.uk/gp/product/B002N2YZYU?ie=UTF8&tag=gadge0a-21&linkCode=as2&camp=1634
http://www.logitech.com/en-gb/speakers-audio/wireless-music-systems/devices/5847