Raptor Radio and much much more.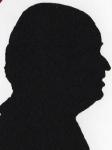 A three band outdoor radio, but it is so much more, it's a torch, it can charge your mobile phone and is also an Altimeter, Compass, Barometer, Thermometer, Chronograph and it even has an alarm and it can recharge using Solar power.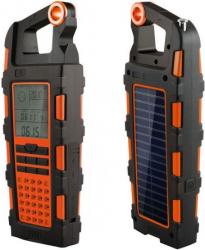 click image to enlarge
I was going to say this rivals the Swiss army knife for functionality but perhaps with the Swiss Knife they become a formidable team.
It is a maximum of 20x7x3cm and has a snap clip on the top to clip onto a belt or rucksack. It is rubberised as being an outdoor item it must expect the odd knock. So predominately black with orange bits the latter for high visibility.
I would advise against getting one and then immediately setting out for a hike as while it can do all the things listed it first of all needs a good charge – 18 hours of full sunlight will do it – or you can charge it from a USB port.
However while it is easy to work out how to operate the torch located in the base and the radio – even to store the thirty possible presets – it require a good read of the manual to get into the various modes that could possible save your life.
So why not use it in your garden or even a local park until you feel able to change modes without much thought.
The back of the unit is a large solar panel 11.5x4cm. The right side has a large bung to cover, reset, USB input, headphone/earbud outlet, auxiliary input, and mobile phone charge point. The left side the on/off button for the powerful torch. The top has a 3.5x2cm opening behind the clip which also has a 1cm round hole for a cord and the exit point for the five piece 19cm long rod aerial and on the other edge a bottle opener.
This leaves the front a 4x4cm screen that shows various things according to the mode in up to five lines of display. The display is black on grey but pressing button puts a white light on for ten seconds to let you read in bad light.
Below this are three rows of three rubberised buttons that control the unit. Above the display is the on/off button for the three band radio.
The radio bands are a little unusual being AM, FM and Short Wave the latter covers 3000-21850KHz. The rod aerial is needed for FM and Short Wave but not for AM where an internal ferrite bar is used for its tuning.
If you play the radio from a full charge at a low volume you should be able to use it for around 30 hours before a recharge, however assuming you are out and about with sunshine then this could well be a longer time.
The total weight of the unit is 324grams and while it may be useful it is rather like someone putting all their eggs in one basket as being in the middle of nowhere losing a torch is difficult, a radio annoying but a compass could be life threatening.
If weight is not a problem I can see this being a useful addition, but as regular readers will know I am a belt braces and safety pin person so I would have it as well as the important component parts in their basic form as well.
The Eton Raptor is available for £99.95 from the link below.
http://www.nevadaradio.co.uk/portable-radio/analogue-portable-radios/eton-raptor-g