Roberts Stream 107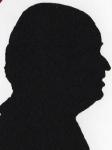 This is a small unit which Roberts describe as portable and indeed it works in all modes via six 'AA' batteries but even when used in DAB or FM mode time between charges is not great, when used in Internet or UPnP mode even less.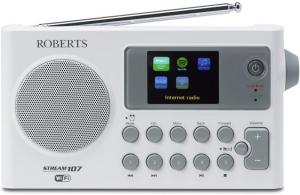 click image to enlarge
The main body is 21x11.5x4cm this does not include the six piece rod aerial that would add 64cm to the middle figure the height when fully deployed but this is not required for Wi-Fi and UPnP use. As a portable the weight is important it is 781grams with the six 'AA' batteries inserted in its back (166grams).
As a mains unit the story is good the single speaker is the left third of the front. There are 14 rubberised buttons that take the lower half of the rest of the front all are well marked. Above these is a 5x3.5cm full colour screen. This has a top line showing which service and a digital clock and a bottom line showing various icons, between these is a six line space and what this carries depends on the service it can show up to four lines of information on what is being played but the left side of this always shows an identification logo.
The right side has a large rubberised multi button to select and move through menus. The left side has two 3.5cm sockets the lower one is for the supplied 1.4metre power lead; the upper one is for headphones or earbuds.
The base is clear, the top has the rod aerial and the back has the drop down door where you can insert 6 'AA' batteries these can be 1.5v alkaline or 1.2v rechargeable, there is a switch in the battery bay to switch modes. Rechargeable batteries can be charged in situ while the unit is in standby, it would have been nice to be able charge while in use.
Make sure the rod aerial is extended on first switch to store the available DAB stations in your area it found 88 in mine. In FM mode you use the multi button to move up or down the frequency band once most stations are found this frequency will change to a station ident in DAB and FM you have five (each) presets that are simply set by holding one of the buttons for a few seconds. There are also five presets available for Internet radio. While I have always said presets are nice for FM stations they really come into their own for Internet stations as there are literally thousands of stations out there and having regularly used ones immediately available is great.
There are alarms and a sleep timer available providing you are using a mains connection.
The one feature I have not mentioned is Spotify Connect which is also built into the unit and you get a free trial of Spotify Premium (ad free) via a leaflet included in the box.
The speaker is reasonable and all but quiet passages are dealt with well it could do with more base but there are settings that can help.
The Roberts Stream 107 is available from the first link below for £120 with free delivery.
http://www.amazon.co.uk/gp/product/B008S8HAYK?ie=UTF8&tag=gadge0a-21&linkCode=as2&camp=1634