Pure Evoke 2S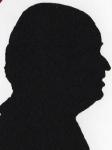 Review controls
The clue is in the last letter of the title, this is a stereo DAB radio. While the majority of DAB radios give a stereo output it is normally only heard natively in mono as they have only a single speaker. This is a more beefy unit and has two speakers.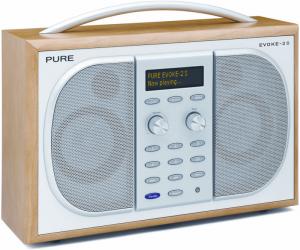 click image to enlarge
The Pure Evoke 2S measures 29x19x13cm and weights 2724grams, however I suspect this will stay in a single place. It can be run on a 'Charge Pak' but that is an extra so it is reviewed here as a mains unit. Mine was a light teak colour.
The rear of the unit has the 70cm eight piece rod aerial, entry point for the 'Charge Pak', mains input as well as an on/off switch, Auxilery In, Line Out, headphone socket and mini USB. The sides base and top are bare the latter has a carry handle. This leaves the front.
Either side of the front are dominated by an 8x13.5cm speaker grill with the central portion having the controls. These are from the top a two line yellow on black display that can if you wish be shown as a single line clock display with 1.2cm tall numerals – great for those using it as a clock radio who normally wear glasses. Below the display is a line of three buttons that I shall return to shortly. Below this the volume knob and the Tuning knob. Finally two columns of four touch buttons and a third column of three buttons.
So those three buttons just below the display, the left one is Alarm, Sleep Timer and Kitchen Timer. The central one is Intellitext that has three options. The right button is ReVu a service that allows you to pause what you are listening to answer the phone or go to the loo say without losing any of what you were listening to proving you do not disappear for longer than ten to fifteen minutes you should miss nothing..
There is a 20 page owners manual that explains in detail everything I have outlined above. So lets rewind to first switch on before plugging in the power lead extend the rod aerial as first switch on starts with a tune that in my case found 52 stations. I found it interesting that the default station was set as Radio 2, maybe this is the age group they think are the profile for buying such a unit.
This is both a DAB and FM radio as well as being able to accept Auxiliary input. Under the Volume and Tuning knob are six one button presets while the five lower buttons Tone, Info, Menu, Standby, Source and not yet mentioned at the point of the forth (non existent button) on the third column is a light sensor. Now to put a little flesh on some of the outlined items. There are 50 presets available for DAB and the same for FM. Setting one to five requires you hold that button for around three seconds. Setting stations 6 to 50 is a little different but adequately shown in the manual.
Unlike a lot of DAB radios this has both Bass and Treble that is accessed by using the Tone button. The Info buttons allows up to five different items to be shown on the display. Menu allows a host of things to be adjusted under seven sub menus.
For Alarms there are a range of options, Daily, Weekday, Weekend, Saturday, Sunday or Once Only. You can be woken by a tone or a radio station of choice, unlike some units the carry handle is not a snooze button. For Sleep Timer this can be set from 15 to 90 minutes in 15 minute increments. The Kitchen Timer can be set for whatever delay you want with the with a beeping alarm.
I found the clock always set almost instantly as soon as I connected power to the unit but you can manually set it should it be required. I tried connecting an iPod to the Auxiliary socket and I got a very acceptable sound when I used the tone button to adjust treble and bass. This is a serious DAB/FM unit. I doubt mosyt people will ever get near the 50 presets available as I would think most listen regulally to only a few stations. The presets are more useful on FM where of course you need to know the stations frequency to tune.
This has a technology called Clear Sound 'Digital end-to-end audio solution'. Doing my Internet searches I found The Pure Evoke-2S at a best price of £139.79 from the first link below. Certainly not cheap but the sound quality make it worth considering for the serious listener.
http://www.amazon.co.uk/gp/product/B001L5SNG6?ie=UTF8&tag=gadge0a-21&linkCode=as2&camp=1634
http://www.pure.com/products/product.asp?Product=VL-61055&Category=