Cheetah self-powered radio

It is always useful to have a small radio that is available for use as and when needed. This could be when sitting in the garden away from the house, when on a train journey or even when there is a power cut. The PowerPlus Cheetah is a pocket-sized radio which could fit the bill.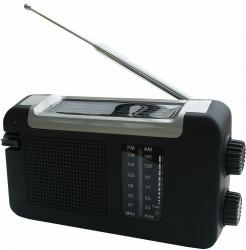 click image to enlarge
The dimensions of the Cheetah self-powered radio are 13 x 7 x4cm and it weighs in at just 205g. It has a built-in battery which is charged either by the hand-cranked dynamo or from a solar panel on top of the radio.
It is claimed that cranking for one minute will give 20 minutes playing time. The solar panel appears to be quite effective as, even on an overcast day, the blue 'charging' LED was illuminated with the radio sitting on a window sill. Hence, with these options, one can't be faced with the problem of a dead battery and no power. In addition, the battery can be charged from one's PC or a mains adapter (not supplied) via the mini USB port. The makers claim that a fully charged battery will give 7 hours playing time.
Although FM tuning is fairly satisfactory, AM was less so, despite there being a green tuning LED for both wavebands. This was probably due to the fact that there are so many, closely spaced, AM stations.
The sound quality was reasonable. Using headphones plugged into the standard 3.5mm socket improved the quality noticeably and also enabled one to use the radio without disturbing anyone nearby.
The radio is robustly constructed and so can easily be carried around or even packed in a rucksack without too much risk of damage. Hence, it will always be ready for use.
Priced at £17.99 incl. free UK delivery from either UK Outdoor Store or Amazon its key selling point is the fact that it is self-powered and independent of mains or separate batteries. It is therefore a useful buy where this is of importance. However, for the person who has no such worries there are other radios on the market that could well be more suitable.