Mio C520t Satellite Navigation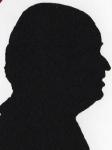 Review controls
This is the top of the range unit from Mio and the size of screen makes it ideal for use in a car. There are modes for pedestrian and bicycle but the size and short battery life make these unsuitable.
Buy Now
Mio C520t DigiWalker
£260.99 from DABs

from £279.90 at Amazon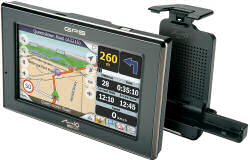 Within a few hours of the Mio C520t arriving I had fully charged it and taken it for a drive. To start with without altering any settings it was telling me measurements in metres and finding the switch to change to miles took a while. I noticed with pleasure that there was plenty of volume at the default setting and in fact it had more in reserve.
The unit is 12.5x8x2cm and this allows a screen of 10x5.5cm and all this can be set to display map of the route in landscape. Giving the extra width can really improve the experience. However should you want or need more detailed information such as local petrol stations etc the map view can be reduced to 6.5cm and the other 3.5cm used for directions etc. This area is taken from the right side of the view.
In car it worked well - and of course the poor battery life was not a problem - advice was given in good time and the voice was clear. As far as the screen goes it is easy to read - even in the smaller screen configuration - and the orange colour used to highlight the expected route makes that road stand out. A feature I had not noticed before was the ability to stop you changing settings while driving. The speed limit warning is useful unless you intend to break the speed limit. It also has speed camera locations.
I found the recalculation time when you go off route was quite quick. This of course was put to good use when I took it for a train journey, this may sound strange but it does allow you to study the screen - something you certainly cannot do as a car driver - and it also allows you to check on such things as the number of satellites that you are currently receiving from. I found between seven and nine was the normal number but even on going through a tunnel when the signal was lost on emerging the signal was quickly found again.
On first switch on the button needs to be held for six seconds then activity starts. The first screen has eight options. Mio Map, Audio, Pictures, Contacts, Mobile Phone, Stereo, Tools and Settings. The latter is not Mio Map settings and again the manual - all eight pages in English - is inadequate. You really need to hunt in the program to make simple changes. There is an SD/MMC card slot and this is where you would store your music, pictures etc. Beside the SD card slot is a 3.5mm jack plug to allow other not to suffer your musical choice.
The rear has a mini USB to 13amp plug and this allows charging for pedestrian or bicycle use. On the previous Mio unit I reviewed I was not happy with battery life in Pedestrian mode and here - probably because of the larger screen - it was worse even using the standby mode the actual battery life was probably less than three hours. Pressing the button on the top gives a screen that allows you to standby or switch off. If you choose the latter there should be no battery drain but the current route will need to be re-entered.
I tend to expect a Sat Nav system to be something to get me from 'A' to 'B' and it can be useful even when you know the route as a few weeks ago when an accident had just blocked a main road and it guided me through a housing estate to rejoin the main road beyond the accident.
For a purely car device battery life is not critical but if you give bicycle and pedestrian modes then I would suggest at least 4 to 5 hours is essential. This top of the range model comes with a slip case either for when you park the car or take it for a short walk.
Doing my Internet searches found the Mio C520t at a best price of £269 from the first link below. The official price has just been reduced to £289.
http://www.dabs.com/productview.aspx?Quicklinx=4LB9
http://www.mio-tech.be/en/gps-navigation-products-mio-C520t-overview.htm