Hubs from Brando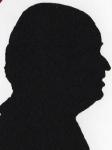 While the desktop PC often has up to six USB ports, a Notebook or Netbook rarely has more than three. So with more and more devices connecting via USB we all from time to time will need a hub to provide extra ports.
USB Clip-On 4 Port Hub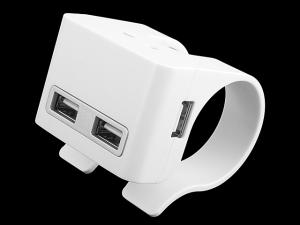 click image to enlarge
Since this arrived my desk has had this sitting on (or should I say clipping on) the edge of my desk. It takes 4cm of vertical height and 5cm of horizontal space. The total weight of the hub is just under 40grams.
There are two well spaced ports on the top and one on each side. The rear has the entry point for the supplied USB lead and that's it. The actual dimensions are 6x5.5x4.5cm mine was white but I see they also do it in black.
Apart from the top 2cm the rest of the height is made up of two strong expanding plastic clips that will fit over most desk edges.
So rather than it fitting flat and not being held strongly the clips overlap the hub part and cause the hub to be pushed up at the back and down at the front making the grip so much stronger and also making the top two ports more open to any insertion meaning most items can be inserted using just one hand.
This is a USB 2 product but it will also work with all USB 1.1 items, however should you connect a slow item such a mouse to it then do not expect full throughput from an item such as a DVD drive or external USB hard disc.
Available from the link below for £10 US plus $3 p&p to anywhere in the world.
http://usb.brando.com/usb-clip-on-4-port-hub_p01295c039d015.html
10-port USB Hub Bar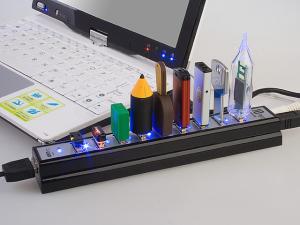 click image to enlarge
While I never needed external power for the Clip on hub above if you get anywhere near using all the ten ports on this bar you will need external power and a power supply and 13amp universal adapter are provided in the price.
The hub itself can sit on your desk or be wall mounted using the two screw hole mounts in the back of the unit.
The USB lead provided is a standard one as used by such things as printers with the rectangular fitting in the top end beside the entry point for external power.
Nine USB ports are spaced at 1cm intervals along the face of the unit with the tenth port being on the bottom of the unit.
It is 12.5x4x2cm and it weights only 75grams without any leads inserted. Each port is numbered and when connected an LED is lit by the corresponding number.
Although this is a USB 2 device it will work with USB 1.1 items but of course the same statement above about slow items applies here.
While I find it hard to imagine ten USB items connected in a single strip if they are available no doubt they will be filled especially with items that take charge from USB as so many devices do today, of course it will not stop the leads getting tangled but I expect everyone has a tangle of leads behind their PC I certainly do.
Available from the link below for $25 US plus $3 US P&P to anywhere in the world.
http://usb.brando.com/10-port-usb-hub-bar_p01310c039d015.html