Beyond Innovations 2008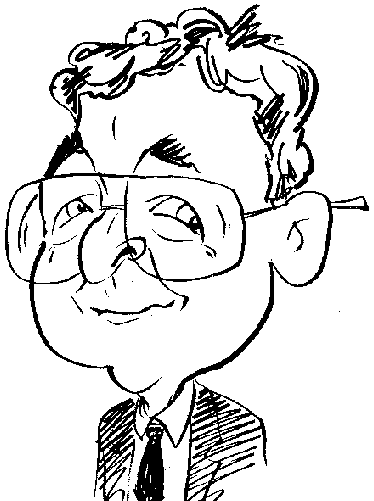 Review controls
It was a rainy morning, more like an April downpour really but this was July, as I avoided the puddles on my way to check out the new products from Tefal, Krups and Rowenta under the banner of Beyond Innovation 2008.
Buy Now
Tefal Toast 'n' Egg
£39.99 including delivery
from John Lewis


Nespresso Le Cube
Full range from £149.99
at Amazon


Tefal Quick Cup
£49.95 incl. delivery
from Amazon


Tefal ActiFry
£108.99 incl delivery

Situated in Central London, within a stone's throw of Oxford Street and Bond Street, the Music Room is one of those locations that are often used by companies to show off their wares to the press and trade customers. My previous visit had been to check out new products from Sony Ericsson and now I was faced with various household gadgets bearing the Tefal, Krups and Rowenta brands.

The first item to catch my eye was the Tefal Toast N' Egg machine (review). As its title implies, this product provides the means to produce toast and a poached egg for a quick-and-easy breakfast or maybe a late-night snack. The Toast N' Egg consists of two wide slots for bread, muffins, croissants and bagels plus a poaching tray which can double as a steaming container for hard boiled eggs or keeping other food items warm. With an electronic variable browning control, the Toast N' Egg will be available in black at a price of £39.99.
Of course, for some, breakfast is not complete without a supply of coffee. While there were numerous examples of coffee making devices on display, I quickly gravitated to the new Nespresso Le Cube (review) Black from Krups. Described as an example of chic minimalism to enhance your coffee drinking experience, the Le Cube Black has been designed by the Swiss designer Antoine Cahen.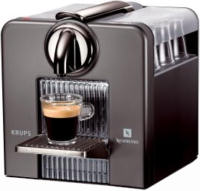 This is the type of coffee-making machine where you need to insert a pod or pouch of your favourite brand of coffee and then let the technology take over. Making use of features such as a "flow-stop system"; cup warming trays on either side of the machine; and auto-ejection of used pods, this coffee-making experience has been priced at £169 and will be available in a choice of glossy transparent and white or an anodized finish titanium.
If your preference is just for a quick cup of filtered hot or cool (room temperature) water at any time, then the Tefal Quick Cup might appeal. Accredited by the Energy Saving Trust, this product can dispense a filtered cup of hot or cool water within three seconds. It only uses a third of the energy required by an ordinary kettle as it just heats the water you actually need. Featuring an anti-dust tank lid, tap and anti-scale filter, the Quick Cup carries a price ticket of £49.95.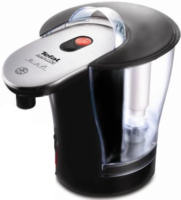 As somebody with a cholesterol problem, I often feel guilty when eating chips. Tefal believes it can remove this guilt with its ActiFry product (review) which lets you cook your favourite food, such as chips or chicken, using just a single spoonful of oil. The ActiFry uses a unique rotating mixing paddle so that the food is coated in oil to product low-fat results. With a removable non-stick aluminium bowl for easy cleaning, the various elements of this device are dish-washer safe. Currently available with a free 15ml sachet of Filippo Berio Mild & Light Olive Oil, the Tefal ActiFry is available for £108.99, including delivery.
While you may not fancy jam with your chips, Tefal does offer a jam-making product. This is the Vitafruit Jam Maker which is claimed to be suitable for the
experienced cook or jam-making novice with options to use a tradition method or go for a quick setting. A low sugar, high vitamin Vitafruit recipe setting uses 65% less sugar than more conventional jam. Also included is a juice extraction feature for making redcurrant jelly and the means to make rice pudding. The Vitafruit Jam Maker will cost £79.99.
Whenever I think of Tefal my first thoughts tend to drift towards the company's non-stick coating technology. Tefal's research team has developed two new non-stick coatings. These are Expert-Pro and Pro-Metal Pro. The Expert-Pro coating will feature on the Specifics and Evidence ranges giving an even heat distribution without any hot spots. The recently introduced Jamie Oliver Professional Series of cooking implements will have the Pro-Metal Pro interior non-stick coating. The Jamie Oliver branded products will be available in Hard Anodizes, Cast Aluminium and Stainless Steel.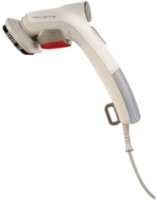 Moving away from the kitchen brings us to the final two items in this roundup of some of the new products displayed at Beyond Innovation 2008. According to David Hawkins, celebrity stylish, " Every fashionista should invest in a Rowenta Ultrasteam." This product is a handheld steam-brush that allows you to remove creases from garments on a hanger using a continuous flow of steam. The flow of steam is easy to control with a dial to adjust output depending upon the fabric type. Supplied with a carry-bag, the Rowenta Ultrasteam has a price tag of £29.99.
For more traditional types of ironing, Tefal has introduced the Ultimate Autoclean iron. With features such as a power jean function, anti drip and anti scale, the basic model will be available in blue at £59.99.