Tefal Actifry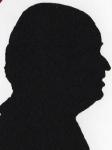 Review controls
Can you imagine frying chips in less than a teaspoon of oil and getting lovely crisp chips? Well with the Tefal Actifry you can and you do.
Buy Now
Tefal Actifry
£130 from Amazon
Including shipping


£130 from John Lewis
including delivery


£149.99 from Comet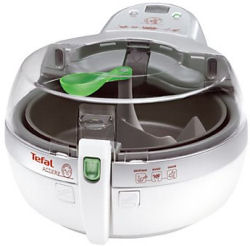 I was to say the least sceptical deep fried chips to be crispy require double frying and that requires them to be cooked at a lower temperature and then recooked at a higher temperature to crisp them.
So following the instructions I picked a medium sized potato which if it is 250 grams is stated to be a single portion. I weighed a few and found one at 260 grams. 13x13mm and up to 9cm long. I know we have been metric for umpty six years but to me that is still ½inch.
So without peeling (lets be healthy) and almost all supermarket potatoes are pre washed I cut the desired sizes, next place them in the Teflon coated container and add ¼ spoon of oil. Yes no misprint ¼ spoon of oil dribbling it over all the chips. At this point I am certain this is not going to work, how can you get great chips with little oil?
Reading the manual this operation will take just over twenty minutes, press the on button and immediately the central paddle starts to rotate this turns the chips while circulating them round the container. Through the Perspex lid I can feel heat and the chips continue to turn, after around ten minutes I can see they are all getting a sheen, after fifteen minutes they look done but I leave the process to continue. Now we are in the final minute and the clock instead of displaying minutes left displays seconds, now is rings out and to stop it you must press the button or it keeps ringing, you also need to switch it off as otherwise it will continue cooking.
I admit the taste was great and the chips were not only cooked but crisp and to my surprise there were even tiny drops of oil in the base of the container. Since then I have tried frozen chips these worked as well. You can aso cook various other items such as vegetables, meat, poultry, fish and even deserts.
The actual container is 25cm across, this sits in another container and then there is the
Outer case in all it's 30cm across. However at one end is the timing mechanism and the motor etc and this gives a 12x14cm bump at the back end, with the lid down the total height of the whole unit is 19cm. So you want to know how large the spoon is, it has a top marking of 1.4cl so I would say ¼ spoon is about a teaspoon.
The Actifry comes with a ten page well illustrated instruction book, this includes two pages with suggested cooking times for a whole range of things other than potatoes. It also suggests the quantities of the item and if it needs oil then how much.
The largest amount of oil anywhere is one spoonful and that is enough for a kilo of chips. If you prefer frozen chips these need no oil at all. The longest cooking time is for either a kilo of chips or 500grams of Chilli Con Carne where you use fresh uncooked mince and this is only 40 minutes.
Over the past few weeks I have felt it's my duty to try a whole raft of items that I would never think of cooking in a 'chip pan' such as lamb chop, monkfish apples and even bananas. They all work, there is also a separate 68 page receipt book in full colour and I have tried some of these as well.
All in all there is only one drawback to the Tefal Actifry for anyone who likes fried food, it's the price. But as you use so little - or no - oil it's close to healthy. I used to hate unpealed potatoes now when I chip them and cook them in the Actifry they are great and of course crispy.
Doing my Internet searches found the Tefal Actifry at a best price of £130 including delivery from both Amazon and John Lewis.
Doing my Internet searches found the Tefal Actifry at a best price of €199 including delivery from the first link below.
http://www.amazon.fr/Seb-Fz7000-Friteuse-Electrique-Actifry/dp/B000RVYJ9A.
http://www.eathealthily.co.uk/