Samsung 40inch Smart TV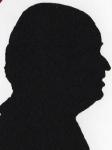 Review controls
TV's are getting larger and are no longer just a device to take external connections, hence the word 'Smart' as now they do not even have to have an Ethernet connection as a reasonably good wireless link will do it all for you.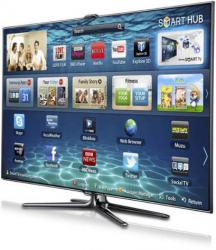 click image to enlarge
My own LCD TV was one of the early ones after the tube was superseded and is now showing its age. So I was glad to have this offering from Samsung during part of the Olympics. Not just for having HD built in but also the BBC app that allows even more streams than the six available with a standard recent TV, so almost anything that is live is viewable.
The screen dimensions are 91x52x2cm the only place that is thicker is where the stand connects to the rear of the unit. The stand 55x24 and consists of an 'X' on its side, this raises the unit 7cm from whatever you have it resting.
The initial setup allows Analogue and Digital or just Digital tuning, as few if any areas still have analogue signals I did the latter which gave 80TV 24Radio and 17Data channels. You need to enter your postcode to get the best from the excellent inbuilt TV Guide.
The power input is back left with all the other external connections being in an 'L' shape back right. These consist of three USB, three HDMI, Optical, Audio, Headphones and a mini SCART (adapter supplied). The bottom of the 'L' has aerial and satellite connections as well as AV and Component and should you use it Ethernet.
However once you have power and any devices such as a PVR and say a DVD player connected you are unlikely to need to go near the TV as everything else can be done from the supplied 49 key remote control and this includes setting up a Wireless Internet link with the aid of an onscreen keyboard then just sit back and enjoy.
As a TV it gave excellent colour and brightness and decent sound quality with of course a range of settings for special uses. However I doubt anyone would buy a 'Smart' TV just to watch the digital channels available via its aerial.
It has voice and sound controls to turn the unit on and off so in theory your dog could lie on the sofa and enjoy watching, I found this rather hit and miss and a gesture I made on one occasion turned the set off unexpectedly. 3D is also available both through some test files in the 'Smart' section and via the BBC showing some feeds during the Olympics, for this you will need the two pairs of powered glasses to allow you to benefit.
One feature that I made good use of is Skype once you have signed in it will bring it up whenever you have a voice or video call much like a smartphone will bring a call up over whatever you are listening too, this worked well. I say video call as the TV has a camera built into the top of the screen rather like most recent notebooks.
For those addicted to social media all the favourites are available as well as iPlayer and ITV Player so why not catch up with your soaps and serials with a full screen replay just as if you were watching it live when broadcast.
There is good documentation, a Quick Start Guide, a User Manual and a separate manual for the 3D Glasses.
This is far more than a TV if you connect a keyboard then you could do all your web browsing from your sofa. Its nice not to have your TV even a 'Smart' one with an Ethernet cable it gives youso much more flexibility.
Of course as always the latest technology has a price attached to it. Also the size of the screen are continually getting larger there are few 37inch offerings left so this at 40inch is almost the starting point.
Doing my searches found the Samsung UE40ES7000U at £1239 with free delivery.
http://www.amazon.co.uk/gp/product/B007JURGVK?ie=UTF8&tag=gadge0a-21&linkCode=as2&camp=1634